Ćevapi are one of the most favorite comfort food in Balkan. I grew up with Ćavapi and its most delicious flatbread (lepinja) dipped in fat from fried Ćevapi, lots of onion, ajvar and if we did have lot of luck – real sour cream, homemade (kajmak)! O boy, eating Ćevapi in childhood was like having birthday, Easter and Christmas at once!
Today, decades after this gastro fairy tale, I got inspiration to make Balkan burger as Thank you my little Ćevap friends to make my childhood so delicious and unforgettable. An ode to Ćevapima.
My Balkan burger is like a bride…something new, something old, something borrowed, something blue (in Balkan burger case – green).
New – the most delicious, soft sourdough burger buns. They smell like butter and milk, light yellow color thanks to the yellow white flour.
Old – old, great Ćevapi made of minced beef with little bit of garlic, salt and ground pepper, as well as little bit of sparkling water. Little bit spicy ajvar, onion and sour cream.
Borrowed – tomatoes, kindly borrowed from classic burger 🙂
Something green – salad of course.
Balkan burger taste just like the most delicious dream! Salad and tomatoes fit perfectly with classic Ćevap composition squeezed between 2 half of homemade sourdough burger buns. Actually, I was speechless. Ok, I am lying. If you consider Uffff and Mmmmmm like a conversation, than I was talking while eating a lot! What to say. Ufff, mmmmm, enjoy!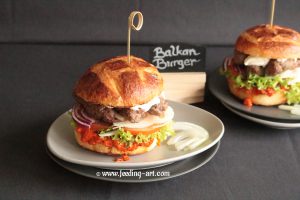 Burger buns
Ingredients:
350g flour (175g Manitoba, 175g yellow wheat flour)
80 ml lukewarm water
80ml lukewarm milk
1 egg
10g salt
90g active white flour starter
80g butter, room temperature
Method:
If your starter was in fridge for some days, you need to refresh it. Feed it with flour and water 2 times in 12 hours (or as usually, while every starter has individual time to get active)
16.00 h Mix water and flour and let it rest for half an hour (Autolyse). If you do not have time, you can skip this part and mix all ingredients together.
16.30 h Add butter, egg, starter, salt and knead dough (with or without mixer). Dough should be little bit soft. Cover and rest at the room temperature. In next 2-3 hours perform stretch and fold.
20.00 Rest at the room temperature until doubled in volume (my dough stayed outside the fridge at 19 C the whole night, but if you do not have time to bake straight away, leave it in fridge)
Second day
8.00h Form burger buns 105g, 6 pieces. I used silicon forms for 6 pieces. But, for this size of burgers, ideal weight of burger buns would be 90g. Cover burger buns with clear cling foil (smear some oil over foil to prevent dough from sticking on the foil). Let burger buns rest until doubled in volume.
Preheat oven at 240 C with small pan for water. Smear each burger buns with mixture of egg yolk and milk. If you want, you can sprinkle some sesame, poppy seeds, ground pepper.
Put burger buns in oven, pour some water in a small pan and bake for about 20-25 minutes. After 15 minutes take out small pan with water and continue to bake until they get nice color.
Ćevapi:
500g minced beef
Salt and pepper
3 cloves of garlic, finely chopped
Little bit of sparkling water
Mix all ingredients and if possible leave in fridge over night. Next day form ćevape and fry in a pan.
Others:
Salad
Tomatoes
Onion
Ajvar
Sour cream (kajmak)
-Croatian version-
Ćevapi su jedno od najomiljenijih comfort food na Balkanu. I ja sam odrasla uz njih, uz prefine lepinje umočene u mast od pečenja, puno luka, ajvar i kad je sreće bilo pravi, masni, gusti kajmak! Jao to je svaki puta bio i rođendan i Uskrs i Nova godina!
Danas, desetljećima nakon tih bajkovitih trenutaka, došla mi je inspiracija napraviti Balkan burger kao oda mojim najljepšim gastro trenucima djetinjstva. Oda Ćevapima.
Moj Balkan burger je poput mladenke…nešto novo, nešto staro, nešto posuđeno, nešto plavo (zeleno u slučaju Balkan burgera).
Novo – prefino, mekano burger pecivo s domaćim kvascem koje miriše na maslac i mlijeko, nježne žute boje zahvaljujući brašnu od žutog zrna pšenice.
Staro – dobri stari ćevapi od junetine s malo češnjaka, mineralne vode, soli i pristojne količine papra. Blago ljuti ajvar, luk i kajmak.
Posuđeno – rajčica, velikodušno posuđena od klasičnog burgera.
Nešto zeleno – jasno, salata.
Okus je san snova. Salata i rajčica stopljena s klasičnom ćevap kompozicijom stisnutom između bajnog domaćeg peciva ostavlja bez teksta. Lažem. Ne ostavlja bez teksta. Ako se Uffff i mmmm računa, onda ostavlja puno ovakvih misaonih riječi još dugo nakon što poližete svoje ajvarom i kajmakom umrljane prstiće. Dobar tek!
Burger peciva
Sastojci:
350g brašna (175g manitoba, 175g brašna iz pšenice žute sredine zrna)
80 ml mlake vode
80ml mlakog mlijeka
1 jaje
10g soli
90g startera od bijelog brašna
80g maslaca, sobne temperature
Postupak:
Ako vam je starter bio u hladnjaku, prvo ga osvježiti dva puta da bude aktivan (nahraniti s brašnom i vodom, 2 puta u razmaku od nekoliko sati).
16.00 h Vodu i brašno pomiješati rukama i ostaviti pokriveno pola sata (autoliza). Može i bez nje.
16.30 h Potom dodati maslac, jaje, starter i sol te mikserom s nastavcima za tijesto umijesiti srednje mekano tijesto koje se mora odvajati od posude (svakako ne predugo mijesiti). Pokriveno ostaviti na toplome te u naredna 2-3 sata svakih 30 minuta kratko i nježno premijesiti (stretch and fold, u zdjeli ili na radnoj površini s malo brašna).
20.00 Ostaviti na sobnoj temperaturi dok se volumen ne udvostruči (meni je tijesto ostalo na 19C cijelu noć, ali nakon što se volumen udvostruči, a nemate vremena peći, ostavite tijesto u hladnjaku)
Drugi dan
8.00h Formiranje burger peciva težine oko 105g, 6 komada. Koristila sam silikonske okrugle forme za pečenje peciva u koje stane 6 komada. Za ovu veličinu forme idealna težina burger peciva bila bi 90g. Peciva prekriti s prijanjajućom folijom koju ste malo premazali uljem da se ne lijepi za peciva. Ostaviti da se peciva udvostruče u volumenu.
Zagrijati pećnicu na 240C s manjom posudom za vodu (da bi se stvorila para ako nemate pećnicu s tom funkcijom). Svako pecivo po želji posuti sa sezamom (crnim ili svijetlim) ili makom. Prvo lagano pošpricati peciva vodom da se sjemenke zalijepe. Peciva možete premazati mješavinom žumanjak i mlijeka te posuti krupnu sol ili krupno mljeveni papar. Ili jednostavno pospite s malo brašna.
Kada stavite peciva u pećnicu, u zagrijanu posudu ulijte vodu i pecite 20-25 minuta. Nakon 15 minuta izvadite posudu s vodom i nastavite peći dok peciva ne dobiju lijepu boju.
Ćevapi:
500g junetine
Sol, papar
3 češnja češnjaka sitno narezana
Malo mineralne vode
Sastojke dobro pomiješati i najbolje tijekom noći ostaviti u hladnjaku. Idući dan formirati ćevapi i peći na tavici.
Ostalo:
Salata
Rajčica
Luk
Zelena salata
Kajmak
Ajvar