Asparagus Saison is for me time for grilled salad and hollandaise sauce. Both are my favorite, but white asparagus are always with cooked potatoes and homemade hollandaise. Green on the other side are perfect shortly grilled on olive oil and butter, mixed with different green salad (baby spinach, rucola and field salad are my choice), sweet cherry tomatoes, smoked salmon and horseradish. At the end I like to add some goat or sheep cheese.
And dressing? All over salad pour juice from ½ lemon, 2-3 spoon of homemade olive oil, coarse ground salt and pepper, and some chili flakes.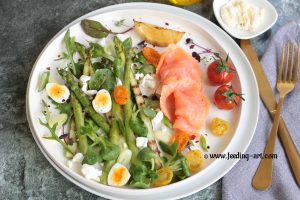 Welcome Spring on my plate!
Ingredients:
Asparagus
Mini tomatoes, different colors
Mixed salad (baby spinach, rucola, field salad, lollo bianco salad)
Smoked salmon
Young onion
Lemon
Feta cheese
Salt with chili flakes and coarsely ground pepper
Olive oil and lemon juice
Horseradish with sour cream
Quail eggs
Wash asparagus, cut lower part (ca ¼) and grill shortly with some oil and butter. Season to taste with salt and pepper.
Wash tomatoes, cut in half and grill shortly with some sugar, salt, herbs (rosemary and thyme) and pepper.
Cut young onion in stripes. Wash salad, cook eggs (4 minutes), peel and cut in half.
Mix Horseradish with sour cream. Crumble cheese with your fingers in larger pieces.
Place on the plate mixed salad with young onion. On the top of it grilled asparagus, eggs and cheese. Next to salad place smoked salmon, horseradish and grilled tomatoes. Season to taste with coarse salt and chili flakes, pepper, lemon juice and olive oil.
-Croatian version-
U sezoni šparoga najradije ih jedem u salati ili s hollandaise umakom. Bijele šparoge su mi idealne kratko kuhane uz krumpir i domaći hollandaise, ali zelene u punom sjaju dolaze kratko grilane i pomiješane s raznovrsnom zelenom salatom (mix poljske, rukole i mladog špinata je sjajan), slatkim rajčicama, dimljenim lososom i hrenom. Ja svakako volim i malo sira, ovčjeg ili kozjeg.
A dresing? Preko servirane salate ocijediti pola limuna, 2-3 žlice domaćeg maslinovog ulja, po okusu krupno mljevena sol i papar te malo čili pahuljica. Dobro došlo proljeće na tanjuru!
Sastojci:
Šparoge
Mini rajčice različitih boja
Miješana salata (mladi špinat, rukola, poljska salata, lollo bianco, mangold)
Dimljeni losos
Mladi luk
Limun
Feta sir
Sol sa čili pahuljicama i krupno mljeveni papar
Malinovo ulje i limunov sok
Hren s vrhnjem
Prepeličja jaja
Šparoge oprati, posušiti, odrezati donji dio (ca ¼ šparoge odozdola) i kratko grilati na tavici s malo ulja i maslaca. Začiniti sa soli i paprom.
Rajčice oprati, posušiti, prepoloviti i također na malo masnoće kratko grilati uz dodatak šećera, soli, papra i malo sitno sjeckanih začina (timijan, ružmarin…).
Mladi luk oprati i narezati na tanke kolutove. Salatu oprati. Jaja kuhati 4 minute, oguliti i prepoloviti.
Hren pomiješati s malo vrhnja. Feta sir rukama razmrviti na krupnije komade.
Na tanjur složiti različite vrste salate s mladim lukom, a na nju položiti grilane šparoge i polovice tvrdo kuhanih prepeličjih jaja i feta sir. Pored servirati dimljeni losos, hren, grillane rajčice. Sve začiniti sa krupnom soli i pahuljicama čilija, paprom, limunovim sokom i maslinovim uljem.