Ingredients:
350g flour (175g Manitoba, 175g yellow wheat flour)
80 ml lukewarm water
80ml lukewarm milk
1 egg
10g salt
90g active white flour starter
80g butter, room temperature
Method:
If your starter was in fridge for some days, you need to refresh it. Feed it with flour and water 2 times in 12 hours (or as usually, while every starter has individual time to get active)
Mix water and flour and let it rest for half an hour (Autolysis). If you do not have time, you can skip this part and mix all ingredients together.
Add butter, egg, starter, salt and knead dough (with or without mixer). Dough should be little bit soft. Cover and rest at the room temperature. In next 2-3 hours perform stretch and fold.
Rest at the room temperature until doubled in volume (my dough stayed outside the fridge at 19 C the whole night, but if you do not have time to bake straight away, leave it in fridge)
Second day
Form burger buns 100g, 6 pieces. I used silicon forms for 6 pieces. Cover burger buns with clear cling foil (smear some oil over foil to prevent dough from sticking on the foil). Let burger buns rest until doubled in volume.
Preheat oven at 240 C with small pan for water. Smear each burger buns with mixture of egg yolk and milk. If you want, you can sprinkle some sesame, poppy seeds, ground pepper.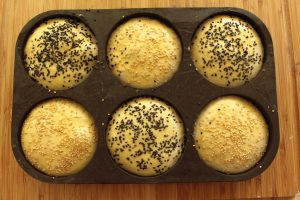 Put burger buns in oven, pour some water in a small pan and bake for about 20-25 minutes. After 15 minutes take out small pan with water and continue to bake until they get nice color.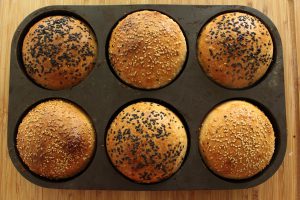 Filling:
Spare ribs meat, chopped
Green salad
Coleslaw salad
For Coleslaw salad
Slice cabbage into thin sherds, grate carrot and mix together. For dressing mix sour cream, yoghurt, mustard, salt, pepper, lemon juice.
Onion marmalade
For onion marmalade
Cut onion in stripes, sauté on olive oil and butter, caramelize with brown sugar, pour some red wine, reduce, season with honey, thyme, salt and pepper. Cook on medium heat until soft. Add some water if needed.
Cheddar cheese
Cut burger bun in half. On the lower part of the upper half of bun place cheddar and melt it in oven. On the lower part of bun place green salad, coleslaw, meat, onion marmalade and at the end place upper half of bun with cheddar cheese.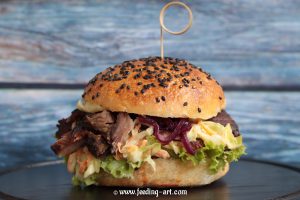 -Croatian version-
Sastojci:
350g brašna (175g manitoba, 175g brašna iz pšenice žute sredine zrna)
80 ml mlake vode
80ml mlakog mlijeka
1 jaje
10g soli
90g startera od bijelog brašna
80g maslaca, sobne temperature
Postupak:
Ako vam je starter bio u hladnjaku, prvo ga osvježiti dva puta da bude aktivan (nahraniti s brašnom i vodom, 2 puta u razmaku od nekoliko sati).
Vodu i brašno pomiješati rukama i ostaviti pokriveno pola sata (autoliza). Može i bez nje.
Potom dodati maslac, jaje, starter i sol te mikserom s nastavcima za tijesto umijesiti srednje mekano tijesto koje se mora odvajati od posude (svakako ne predugo mijesiti). Pokriveno ostaviti na toplome te u naredna 2-3 sata svakih 30 minuta kratko i nježno premijesiti (stretch and fold, u zdjeli ili na radnoj površini s malo brašna).
Ostaviti na sobnoj temperaturi dok se volumen ne udvostruči (meni je tijesto ostalo na 19C cijelu noć, ali nakon što se volumen udvostruči, a nemate vremena peći, ostavite tijesto u hladnjaku)
Drugi dan
Ujutro formirajte burger peciva težine oko 100g, 6 komada. Koristila sam silikonske okrugle forme za pečenje peciva u koje stane 6 komada. Peciva prekriti s prijanjajućom folijom koju ste malo premazali uljem da se ne lijepi za peciva. Ostaviti da se peciva udvostruče u volumenu.
Zagrijati pećnicu na 240C s manjom posudom za vodu (da bi se stvorila para ako nemate pećnicu s tom funkcijom). Svako pecivo po želji posuti sa sezamom (crnim ili svijetlim) ili makom. Prvo lagano pošpricati peciva vodom da se sjemenke zalijepe. Peciva možete premazati mješavinom žumanjak i mlijeka te posuti krupnu sol ili krupno mljeveni papar. Ili jednostavno pospite s malo brašna.
Kada stavite peciva u pećnicu, u zagrijanu posudu ulijte vodu i pecite 20-25 minuta. Nakon 15 minuta izvadite posudu s vodom i nastavite peći dok peciva ne dobiju lijepu boju.
Punjenje
Meso od spare ribs, nakidano na krupnije komade
Zelena salata
Coleslaw salata
Za coleslaw salatu
Mrkvu naibati, kupus narezati na tanke rezance. Za preljev pomiješati vrhnje, jogurt, senf. sol, papar, limunov sok.
Marmelada od ljubičastog luka
Za marmeladu od ljubičastog luka:
Narezati luk, na maslinovom ulju i maslacu prodinstati, karamelizirati sa smeđim šećerom, podliti crvenim vinom, reducirati, začiniti s medom, timijanom, soli, paprom i kuhati na slaboj vatri dok se ne zgusne. Po potrebi dodati malo vode.
Cheddar sir
Burger pecivo prepoloviti, na donji dio gornje polovice staviti cheddar sir i kratko grilati da se otopi (u pećnici, ispod gornjih grijača). Na donji dio burger peciva staviti zelenu salatu, coleslaw, meso, mameladu od luka te poklopiti gornjim dijelom peciva s otopljenim cheddar sirom.