I do not know when exactly did I fell in love with fresh herbs, strong, spicy, bitter, undefined but certainly with character. Was it when I was living, in my young ages, in London, enjoying Indian cuisine by the family I was staying there? Or, when I opened, 8 years ago, new chapter in my life by entering crazy world of gastronomy? Where I discovered, thanks to my colleagues, beauty and amazing flavors of Asia and Middle East. Falafel, hummus, couscous, coriander, chili, mint, ginger…I simply adore all those colors, smells and unique flavors.
I can honestly say, that I am still searching for a perfect Falafel recipe, because this time I did have a problem with deep frying. Some of them simply fall apart by deep frying. Some came out just perfect as you can see. What is the problem, I have no idea. I did put some flour, maybe it is because of canned chickpeas, or 180⁰C hot oil was too hot. Anyway, I decided to try next time with dry chickpeas, without cooking, only 24 hours soaking.
Hummus is one of my favorite dips, and the best way to enjoy its amazing taste to serve with vegetable sticks (carrot, cucumber, celery sticks, red or yellow pepper). So simple, but absolutely fantastic!
I think, I never bought tortilla in a store. As they are so simple to make and you can play with flavors, using different spices or flours.
This is light and very healthy meal, easy to make, full of flavors, ideal for spending some time with your friends around the table. Or, just roll it like pancake and take it to work, perfect snack!
Falafel:
300g chickpeas (canned)
Ca 1-2 tbsp chickpea flour (or any other)
3 gloves of garlic
1 scallion
1 tbsp of finely chopped coriander
1 tbsp of finely chopped parsley
3 tsp of Tahini paste
Lemon juice and zest
Salt, cumin, black pepper
Add all ingredients except parsley, coriander and flour. Mix it shortly but do not make too smooth. Place the mixture in a bowl and add finely chopped parsley, coriander and flour (as needed, depends on how soft mixture is). Stir with fork and season as needed. Rest in fridge for 2-3 hours.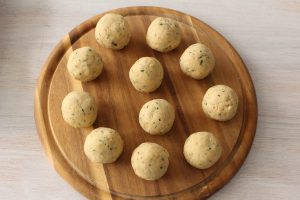 Form balls and fry in oil (oil should be not too hot, ca 180 ⁰C). Put on the kitchen paper to soak fat.
Tortillas (for ca. 11 pieces)
200g spelt
200g whole grain spelt
Ca 230-240g lukewarm water
1 tsp salt
1 tsp baking powder
From all ingredients knead soft but not sticky dough. Rest for 2-3 hours (or overnight in the fridge). Form 60g balls and on a lightly floured surface roll each portion in a ca 21cm circle (depends on how big is your frying pan). Cook tortillas in a hot frying pan until lightly browned on each side (see video). Wrap tortillas in a kitchen towel immediately in order to keep them soft.
Hummus
150g chickpeas
Little bit of cold water
2 tbsp olive oil
Salt, cumin, black pepper
2 gloves of garlic
Lemon juice and zest
Blend all ingredients together. It should be smooth and creamy. If needed, add more water.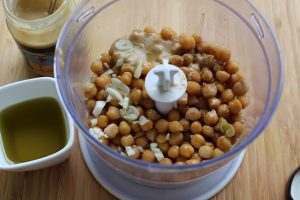 Mint yogurt
Yogurt
Fresh mint leaves, finely chopped
Fresh coriander leaves, finely chopped
Salt, pepper and little bit of lemon juice
Mix all together, season as needed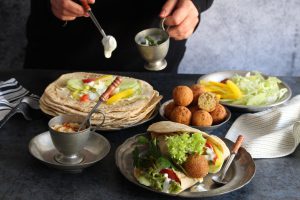 Others:
Salad (crispy lettuce)
Lollo Bionda, lollo rosso salad (coral lettuce)
Cherry tomatoes
Cucumber
Yellow pepper
Preparation
Spread some hummus all over tortilla. Place salad of your choice, cucumber, tomatoes and pepper, falafel cut in half or ¼. Pour some mint yoghurt and if you like add some parsley and coriander. Roll tortilla and enjoy!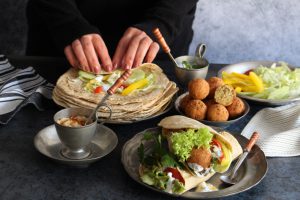 -Croatian version-
Ne znam točno kada sam se strastveno zaljubila u te okuse svježih začina, jakih, ljutih, gorkih, nedefiniranih, ali svakako s karakterim. Je li to bilo u mladim danima kada sam provela 2 godine u Londonu i imala priliku uživati u indijskoj kuhinji obitelji kod koje sam živjela? Ili, kada sam prije 8 godina krenula u sasvim jednu novu životnu avanturu zvanu gastronomija, gdje sam uživala u okusima azije i srednjeg istoka zahvaljujući mojim kolegama. Falafel, humus, cous cous, korijander, chili, menta, đumbir…obožavam sve te boje, mirise i okuse svježine i osebujnog okusa.
Rekla bih da savršeni recept za Falafel još tražim, jer su me ovaj puta prilično namučile u fritiranju. Naime, nekoliko ih se jednostavno raspalo u ulju, dok su ostale ispale savršeno. U čemu je problem, ne znam. Brašno je bilo u smjesi, slanutak je doduše bio iz konzerve, ali dobro osušen, a ulje na 180 ⁰C. U svakom slučaju, idući puta pokušat ću sa suhim slanutkom, samo namakanjem, bez kuhanja.
Humus mi je jedan od najdražih dipova, nema uz što se ne može kombinirati, ali pokušajte jednom narezati papriku, štapiće celera, mrkvu i krastavac te poslužite uz humus – fantastično!
Mislim da tortilje nikada u životu nisam kupila jer se tako brzo i lako naprave, a možete koristiti brašno po želji. Poigrati se i sa začinima pa doboti jedinstveni okus i iznenaditi prijatelje J.
Možda vam se čini da je ovo lagani obrok, ali svakako je zasitan. Dvije ovako punjene tortilje savršene su za ručak. Ako ih umotate poput palačinke i zamotate u foliju, bez problema imate zdrav, domaći obrok na poslu.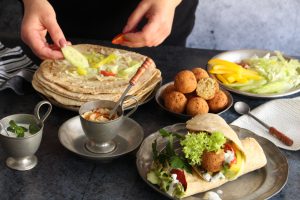 Falafel:
300g slanutka (iz staklenke/konzerve)
Oko 1-2 jušne žlice brašna od slanuka (ili nekog drugog)
3 češnja češnjaka
1 ljutika ili manji luk
1-2 čajne žlice korijandera, svježeg, nasjeckanog
1-2 čajne žlice peršina, svježeg, nasjeckanog
3 čajne žlice Tahini paste
Sok i korica limuna
Sol, kim, papar
Sve sastojke osim peršina, korijandera i brašna, usitniti u blenderu. Ne mixati dugo, smjesa ne smije biti kremasta, bitno je da ostanu komadići. Smjesu staviti u zdjelu i dodati peršin, korijander i brašno (brašno dodajte pažljivo, ovisi o mekoći smjese možda nećete trebati 2 žlice). Sjeditini vilicom, začiniti po potrebi i ostaviti u hladnjaku 2-3 sata ili tijekom noći.
Formirati male loptice i fritirati u ulju koje bi trebalo biti oko 180 ⁰C. Ostaviti na kuhinjskom ubrusu da se upije masnoća.
Tortilje (za oko 11 komada)
200g crnog brašna
200g crnog punozrnog brašna
Oko 230-240g mlake vode
1 čajna žlica soli
1 čajna žlica praška za pecivo
Umijesiti srednje mekano tijesto, ne smije biti ljepljivo. Ostaviti da mruje 2-3 sata ili u hladnjaku tijekom noći. Formirati loptice ca 60g (za tavu promjera 20cm) i na lagano pobrašnjenoj radnoj površini razvaljajte tortilje, prilično tanko, promjera ca 21 cm (ovisi o promjeru vaše tave, ako je manja, onda formirajte manje loptice, 40 ili 50 g). Pecite tortilje kratko na vrućoj tavi bez masnoće s obje strane (pogledati video). Odmah nakon pečenja prekrijte tortilje kuhinjskom krpom kako bi ostale mekane.
Humus
150g slanutka
Malo hladne vode (1-2 jušne žlice)
2 jušne žlice maslinovog ulja
Sol, papar i kim po okusu
2 češnja češnjaka
Sok i korica limuna
Sve sastojke staviti u blender i mixati dok ne dobijete kremastu, mazivu masu. Po potrebi dodati vode.
Dip od jogurta
Jogurt (kremasti, grčki)
Svježi listovi mente, nasjeckani
Svježi listovi korijandera, nasjeckani
Sol, papar i malo limunovog soka
Pomiješati sve sastojke i začiniti po okusu
Ostalo:
Salata po izboru (Iceberg, lollo bianco, lollo rosso)
Mini rajčice, prepoloviti
Svježi krastavac, narezan na ploške
Žuta paprika, narezana
Serviranje:
Tortilju premazati humusom. Narezati salatu i staviti na humus, potom krastavac, paprike, rajčice i falafel narezane na pola ili na ¼ . Preliti s jogurt dip te poželji staviti svježeg peršina i korijandera. Zamotati tortilju i uživati u svakom zalogaju!