I always look forward to my favorite heralds of spring on a plate – asparagus! White or green, it doesn't matter. And while whites prefer to eat with Hollandaise sauce and boiled potatoes, greens give me more room to combine in a variety of dishes.
Namely, there are thicker and very thin ones, so I decided, after finding really nice, thin green asparagus, to make my favorite sushi.
For a real spring feeling, I wrapped a little bit of chives in a slice of thinly sliced smoked salmon, gently wrapped everything together with asparagus and rolled real sushi. Along with salmon, I prefer to eat horseradish sauce with a little cream, but still sushi is not sushi if it is not served with soy sauce. A very simple and light combination, a real harbinger of spring!
Ingredients:
200g Sushi rice
220g water
Mirin to taste
Rice vinegar for sushi to taste
Salt
Nori leaves
Bamboo mat (covered with see through foil)
Sushi rice: rinse rice thoroughly, let rest 30 minutes. Cook the rice on low heat in a non stick pot with lid on (for about 15 minutes or according to instruction on the packaging. Replace cooked rice in a large bowl, stir carefully with fork or chop sticks. Spice with rice vinegar for sushi, mirin and salt till rice warm is. Cover cooked rice with wet kitchen towel. Do not store cooked rice in the fridge. For sushi, cook always fresh rice. When placing rice on the Nori leaf, wet your hands with little bit of water (put some ginger and lemon slices in it).
400g green asparagus, as thin as you can find, blanched
150g smoked salmon, sliced
Chives
Horseradish sauce
Micro greens
Salmon caviar
Soy sauce
Method:
Take a small bunch of chives and wrap in one slice of smoked salmon. Take ½ of Nori leaf, place 2-3 asparagus, than salmon with chives and all around it more asparagus (see video). Wrap it all together.
Take one whole Nori leaf with sushi rice on it, place nori roll with asparagus and salmon and roll sushi.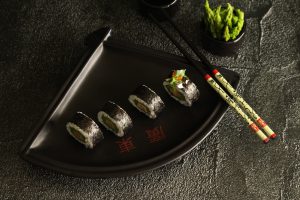 Cut it and decorate with horseradish sauce, micro greens and salmon caviar.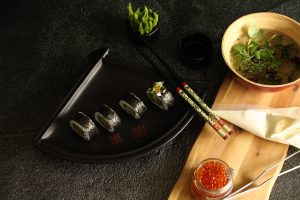 Serve with soy sauce.
-Croatian version-
Uvijek me raduju moji najdraži vjesnici proljeća na tanjuru – šparoge! Bijele ili zelene, svejedno. I dok bijele najradije jedem uz Hollandaise umak i kuhani krumpir, zelene mi daju više prostora za kombiniranje u raznim jelima. Naime, ima ih debljih i vrlo tankih pa sam se odlučila, nakon što sam našla baš lijepe, tanke zelene šparoge, napraviti moj omiljeni sushi.
Za pravi proljetni griz u šnjitu tanko rezanog dimljenog lososa umotala sam malo vlasca, sve zajedno nježno omotala šparogama pa zarolala pravi sushi. Uz losos najradije jedem umak od hrena razblažen s malo vrhnja, ali ipak sushi ipak nije sushi ako se ne servira uz soja umak. Vrlo jednostavna i lagana kombinacija, pravi vjesnik proljeća!
Sastojci:
200g Sushi rize
220g vode
Mirin
Rižin ocat za sushi
Sol
Nori listovi
Bamboo podloga za motanje sushi-a (omotana prozirnom folijom)
Rižu dobro isprati u nekoliko voda te ostaviti da se cijedi 30-tak minuta. Rižu kuhati na niskoj temperaturi u posudi u kojoj se neće lijepiti za dno jer se kuha poklopljeno oko 15 tak minuta (ili prema uputama na pakiranju) bez podizanje poklopca tijekom kuhanja. Kada je riža kuhana, pažljivo je prebaciti u veću zdjelu, začiniti mirinom, soli i rižinim octom dok je još topla nježno miješajući vilicom ili štapićima za sushi. Rižu prekriti vlažnom krpom. Skuhanu rižu nemojte držatiu hladnjaku I uvijek za sushi kuhajte svježu. Prilikom stavljanja riže na nori list, malo namočiti ruke u vodi u kojoj ste stavili ploške limuna i đumbira.
400g zelenih šparoga, tankih, kratko blanširanih
150g dimljenog lososa, narezanog na tanke ploške
Vlasac
Umak od hrena
Mikro bilje
Kavijar od lososa
Soja umak
Umotajte malo vlasca u jednu plošku lososa (video). Na ½ nori lista stavite 2-3 šparoge, na njih losos s vlascem te prekrijte šparogama i sve zajedno zamotajte u ½ nori lista (pogledajte video).
Uzmite jedan cijeli nori list i na njega stavite rižu. U sredinu stavite zarolani losos sa šparogama i sve zajedno zamotajte. Narežite i dekorirajte s umakom od hrena, mikro biljem i kavijarom od lososa. Poslužiti uz soja umak.