Mmmm real picknic deal those pastries with asparagus, salmon and cheese!
Enjoying asparagus saison , when I eat white asparagus every week exclusively with homemade Hollandaise sauce and boiled potatoes. But with green asparagus I like to experiment . Apart from delicious sushi, these cute pocket with goat cheese, honey, fresh herbs and smoked salmon are fantastic finger and comfort food . You can prepare any kind of your clasic yeast dough and wrap cheese filling and asparagus. Simple, fast and to go friendly !
Dough:
300g manitoba flour (or all purpose flour)
100g water
100g kefir
20g honey
20g olive oil
1 tsp salt
4g dried yeast
Mix all ingredients together and rest until doubled in volume. Roll rectangle 40*30 cm and cut 12 squares 10*10 cm.
Filling:
250g goat cheese
100g smoked salmon, cut in stripes
1 tbsp olive oil
Nutmeg
Lemon jiuce
Black pepper
1 tsp of honey
Chives, parsley, dill and olive herb, finely chopped
Mix all ingrediens, season to taste.
Others:
400g thin, green asparagus (11-12cm long)
Egg for coating
Place some filling on the top of dough square and 3-4 asparagus. Join the two opposite ends of the dough (see video). Coat with mixture of 1 egg and little bit of olive oil. Bake at 180 C for about 20-25 minutes (depends on oven).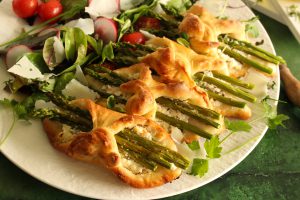 -Croatian version-
Ja zaista uživam u sezoni šparoga ! I dok svaki tjedan bijele šparoge jedem isključivo s domaćim Hollandaise umakom i kuhanim krumpirima, zelene su mi ipak inspiracija da svaki put pripremim nešto novo! Obožavam ih u salatama, sushi je bio odličan, a ovaj puta peciva od dizanog tijesta punjena kozjim sirom aromatiziranim medom, svježim začinima, limunom uz dodatak dimljenog lososa i naravno zelenih šparoga . Jednostavno, brzo i odličan izbor kao finger food to go !
Tijesto:
300g manitoba ili obično bijelo brašno
110g vode
100g kefira
20g meda
20g maslinovog ulja
1 mala žličica soli
5g suhog kvasca
Pomiješati sve sastojka i umijesiti tijesto. Ostaviti prekriveno na toplome da se udvostruči u volumenu. Razvaljati pravokutnik 40×30cm, ca 1cm debljine i rezati kvadrate 10×10 cm.
Punjenje:
250g kozjeg sira (ili nekog drugog, svježeg)
100g dimljenog lososa, narezanog na trakice
1 jušna žlica maslinovog ulja
Muškatnog oraha
Limunovog soka po okusu
Papar
Med po okusu
Vlasac, peršin, kopar i maslinova trava, sitno nasjeckano
Sve sastojke pomiješati i začiniti po okusu.
Ostalo:
400g zelenih, tankih šparoga (izrezati na duljinu od 10-12 cm)
1 jaje za premazivanje
Na svaki kvadrat tijesta staviti punjenje od sira i 3-4 šparoge. Spojiti dva suprotna kraja u čvor (pogledaj video). Premazati jajem s malo maslinova ulja i peći na 180 C dok ne poprime lijepu boju (20-tak minuta).