Sweet Guest: Romina Beljak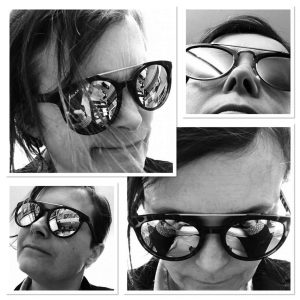 In this sweet story about french beauties I will host my friend Romina. Long time ago we worked together in Zagreb, in publishing agency. She worked as Book editor. Ten years ago she moved to Belgium where she works with her boyfriend as Optician. She likes to travel and to connect business and pleasure. While visiting optics fairs in Munich, London, Milan….she does not miss to discover local delicacy. She cooks with the same passion like her boyfriend Laurent, for friends and family. For several years we are exchanging recipes and photos, of course of food :). Our love for food is so huge that she gets per post office homemade cakes from my sister straight to Belgium for Christmas. And I get from her Belgian delicacy. We really speak the same gastro language 🙂
I asked Romi to be my star guest and here we go….let's start with those French little beauties…
Cannelé Bordelais (Canelés de Bordeaux) are sweet little french bakery confections. Beautiful, little fluted cakes with a rich rum and vanilla flavor enclosed by a thin caramelised shell. Outside glossy and dark brown almost black, bittersweet and crunchy at first bite, makes an exquisite contrast to the smooth, sweet filling with vanilla and rum. Baked in special tin-lined copper moulds, these delicious dessert cakes are often served with Coffee, Tea or Wine. Preparation 15 min      ∙ Baking 1 h 5 min     ∙ Pieces 45
1/2 l milk
140 gr flour
40 gr butter
220 gr sugar
2 vanilla sugar
1 vanilla beans
2 eggs
2 egg yolks
6 tablespoons rum
Boil the milk with the vanilla and butter, then add the rum.
Mix the eggs and egg yolks about 5 minutes. Then, add flour and sugar and mix so long in order to obtain a fluid and smooth mixture, like a pancake batter.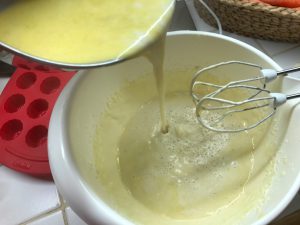 Pour this mixture in the hot milk and mix carefully.
Place it in the refrigerator for 12 hours to 24 hours.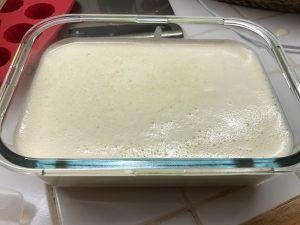 When you are ready to bake the caneles, preheat the oven to 230C.  Pour the batter in to the buttered caneles moulds, they should be only 3/4 full.
Place the moulds on a baking sheet, and bake on 230C for 8 minutes, then lower the temperature to 180C and continue baking for 50 minutes (It depends on your oven, it can take even more).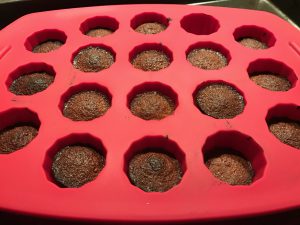 The tops will have a brown crust when they are ready, and they should still be moist inside.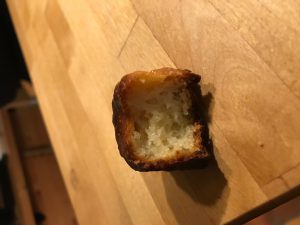 Carefully unmould them whilst they are still hot and allow them to cool.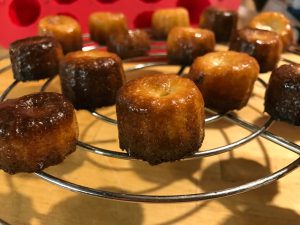 Serve them with coffee, cappuccino or glass of wine.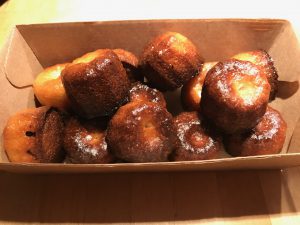 – Croatian version
Slatka gošća: Romina Beljak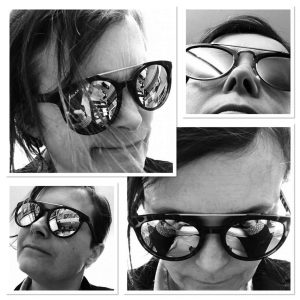 U slatkoj priči o francuskim kolačićima ugošćujem moju prijateljicu Rominu. Zajedno smo radile davnih godina u Zagrebu u izdavačkom poduzeću gdje je Romi bila urednica knjiga. Prije nešto više od 10 godina preselila se u Belgiju gdje sa svojim dečkom radi kao optičar. Obožava putovati i često spaja ugodno s korisnim, poput posjeta sajmova optike u Munchenu, Londonu, Milanu….gdje usput stigne uživati u lokalnim gastro delicijama. I ona i njezin dečko pasionirano kuhaju za sebe i svoje prijatelje, a ja i Romi već nekoliko godina razmjenjujemo recepte i slike, naravno hrane :). Ljubav prema hrani ide nam tako dobro da njoj za Božić u paketu stižu domaći kolači moje sestre, a meni paket belgijskih delicija….baš se sjajno gastro razumijemo!
Pitala sam Rominu da mi gostuje na blogu i da nam predstavi nekoliko specijaliteta iz Belgije, pa evo za početak jedne francuske poslastice.
Cannelé Bordelais (Canelés de Bordeaux) su slatki mali kolačići porijeklom iz Francuske. Izvana tamni po želji blago karamelizirani šećerom kako bi se dobilo na hrskavosti, a iznutra spužvasto mekani s bogatim okusom ruma i vanilije.
Priprema 15min         Pečenje 1h 5min       Komada 45 (više-manje)
1/2 l mlijeka
140 gr brašna
40 gr maslaca
220 gr šećera
2 vanilin šećera
1 štapić vanilije
2 jaja
2 žutanjka
6 žlica ruma
Mlijeko s maslacem i vanilijom zakuhati. Kad zakipi dodaj rum.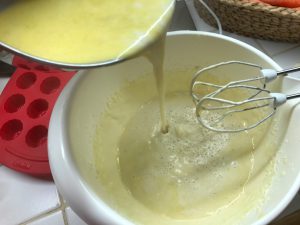 U zdjelu za miksanje stavi jaja i žutanjke i miksaj 5 minuta. Dodaj brasno i šećer i miksaj dok nestanu sve grudice. Dodaj vruće mlijeko i pažljivo izmiksaj, stavi u frižider na hladno 12-24 sata.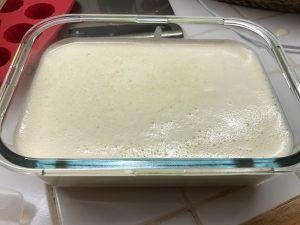 Zagrij pećnicu na max 230 stupnjeva, kalupe napuni do ¾ visine kalupa (ako ne koristite silokonske kalupe, obavezno ih namažite maslacem, a po želji pospite i smeđim šećerom za hrskavost kolačića.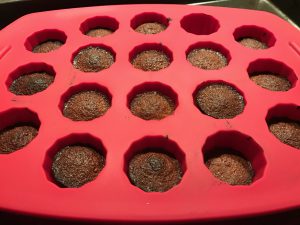 Stavi peći na max temperaturu 8 minuta i onda smanji na 180 stupnjeva i peci jos 50 minuta (vrijeme pečenja ovisi o pećnici). Kolačići su gotovi kada dobiju smeđu do tamno smeđu boju, a iznutra ostanu mekani i sočni.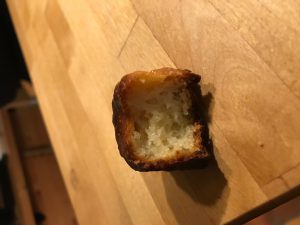 Izvadi i prohladi 1 sat.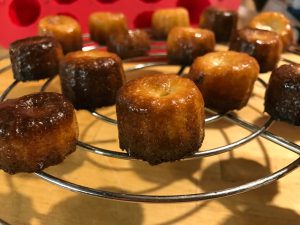 Izvrsno se slažu uz šalicu čaja, kave ili vina.