I fell in love with exotic taste of ginger long time ago when I was living in London. I ate ginger cookies and it was love at the first bite! Even so spicy and aromatic it suits so well with sweet and salty dishes, it is only the matter of using the right amount. From my colleague from Palestine I learned to make magical ginger tea with caramelized sugar, 2-3 mint leaves and little bit of lemon…..just explosion in your mouth….and this we are going to prepare once for our Blog. Even we did drink it in winter, like a proper hot tea, I am waiting for Summer and we will prepare it like cold, refreshing drink….until then, enjoy Carrot-ginger soup….
Ingredients:
500g carrot
2 onions
1 garlic clove
10-15g ginger
Vegetable stock
100ml cooking cream
Salt, pepper, nutmeg
40g butter
To pimp up carrot soup: carrot and ginger chips; sprouts
Stir carrots, ginger and onion with butter. Season little bit with salt, pepper and nutmeg.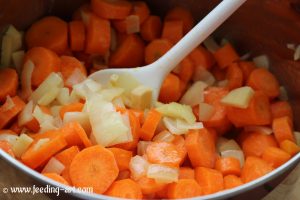 Pour vegetable stock and cooking cream enough to cover vegetables and cook until soft. If vegetables are softer it will be easier to blend and to put through fine sieve.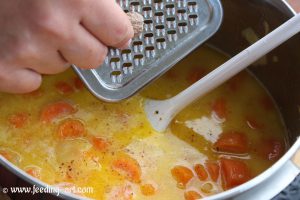 Season if needed with salt, pepper and nutmeg and blend to become medium density soup and pour it through fine sieve in order to avoid clumps in soup. If needed add more vegetables stock or cooking cream if you want more liquid soup and season if needed.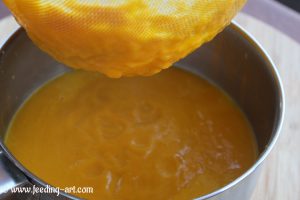 Preheat oil in a pan and fry carrot and ginger circles. Let them rest for 5 minutes on the kitchen paper. If you want little bit crunchy carrot and ginger leave them outside if it is sunny and warm, if not you can leave them in little bit open oven at the lower temperature. Take care they do not get brown color.
To serve: place 3 dots from double cream and with a help of wooden stick make decoration. At the other side place some carrot and ginger chips around green sprouts.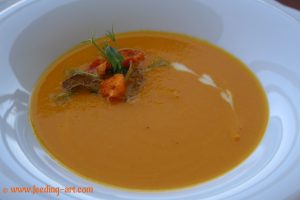 Tipp: if you want more exotic taste, instead of cooking cream add coconut milk. I like the taste of ginger, and I do not mind if it is little bit more in this soup. I just enjoy this blend of sweet carrots, spicy ginger and tiny bit of nutmeg flavor. It goes well with croutons.
-Croatian version-
Okus đumbira u hrani zavoljela sam prilikom boravka u Londonu gdje sam prvi puta probala kekse sa đumbirom i oduševila se. Taj ljutkasto aromatični okus jednostavno se sjajno slaže i sa slatkim i sa slanim jelima, samo ga treba ispravno dozirati. Radeći u gastronomiji od kolegice iz Palestine zavoljela sam prefini čaj od đumbira na karameliziranom šećeru, pa još uz dodatak svježih listova mente i koje kriške limuna….egzotična eksplozija u ustima….a to ćemo skuhati jednom prilikom i za Coolinariku. Mi smo ga pili u zimskim mjesecima kao topli čaj, ali ja čekam ljetne temperature pa ću ga pripremiti "na hladno" kao osvježavajući napitak…do tada, uživajte u juhi.
Sastojci:
500g mrkve
2 luka
1 češanj češnjaka
10-15g svježeg đumbira
Povrtni temeljac
100ml vrhnja za kuhanje
Sol, papar, muškatni oraščić
40g maslaca
Dekoracija: čips od mrkve i đumbira; klice
Na maslacu dinstati krupno narezanu mrkvu, luk i đumbir. Dodati temeljac i vrhnje za kuhanje da pokrije povrće i kuhati dok povrće ne omekani.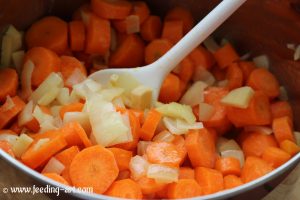 Što je povrće mekše lakše će se blendati i kroz sitno prosijati.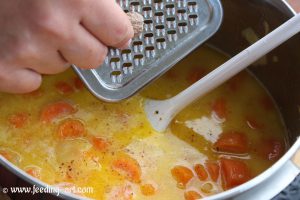 Začiniti sa soli, paprom i muškatnim oraščićem te blendati da dobijete srednje rijetku masu koju potom propustite kroz sito kako bi uklonili eventualne krupnije komadiće povrća. Po potrebi razrijediti s temeljcem ili vrhnjem za kuhanje i po želji dodatno začiniti.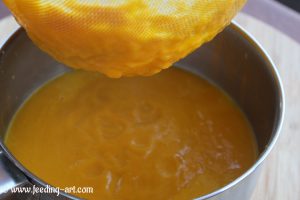 U tavici na ulju fritirati tanko narezane kolutove mrkve i đumbira. Ostaviti ih na papirnatom ubrusu da se upije masnoća. Malo ih na suncu još posušiti ili u poluotovrenoj pećnici na niskoj temperaturi, ali paziti da ne potamne.
Serviranje: na toplu juhu staviti 3 točkice vrhnja za kuhanje i štapićem oblikovati dekorativne oblike. Nekoliko čipsa od mrkve i đumbira poslagati oko zelenih klica.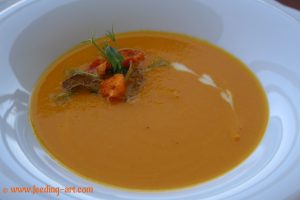 Tip: ako želite još malo egzotičniji okus, umjesto vrhnja za kuhanje dodajte kokosovo mlijeko. Ja volim okus đumbira te sam radila s vrhnjem za kuhanje kako bih uživala u toj laganoj ljuto-egzotičnoj noti. Juha se izvrsno slaže s croutonsima.