The story says…..
Oktoberfest is the world's largest beer festival, and it is held annually in Munich, Germany (the 184th this year). The 16 days party attracts over 6 million people every year who consume more than 7 million liters of beer, 200 000 pairs of pork sausage, and 480 000 spit-roasted chickens (only in these two weeks!). This year in 16 larger and several smaller beer tents and beer gardens is enough seating for 119 000 visitors at a time and about 13.000 people will be employed only for two weeks Oktoberfest time. Proudly German's can say that Oktoberfest is one of Munich's largest and most profitable tourist attractions – It brings over 450 million euro to the city's coffers each year! Oktoberfest as event is usually described as party that represent stereotypical images of beer-loving, meat-loving Germans dressed in dirndls and lederhosen. Visitors to the annual event come from all over the world. But, not less important to stress that Oktoberfest has one day in a week to be called – family friendly day…when everything is prepared in favor of families and children.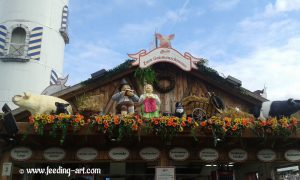 How did all began?
On 12th October 1810 Crown Prince Ludwig (later King Ludwig I) was married to Princess Therese of Saxony-Hildburghausen and all citizens of Munich were invited to attend the festivities which was held on the fields in front of the city gates. In honor of the Crown Princess ever since the fields have been named Theresienwiese ("Theresa's fields"). And since the Oktoberfest is still held on the Theresienwiese, the locals still refer to the event simply as the "Wies'n".
So "welcome to the Wies'n" means nothing other than "welcome to the Oktoberfest"!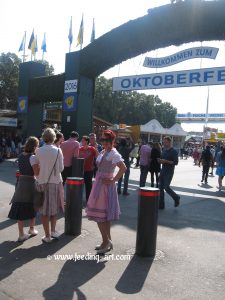 Over the past 200 years, Oktoberfest was canceled only 24 times due to cholera epidemics and war.
From the very first year at the Oktoberfest were lots of different shows – at the beginning an agricultural show, in 1818 a carousel and two swings were set up for the revelers. Visitors were entertained by the tree climbing competitions, wheel barrow and sack races, mush eating contests, barrel rolling races, and goose chases. But 1870s came mechanical rides as an expanding feature of the festival and in 1908, the festival boasted Germany's first roller coaster.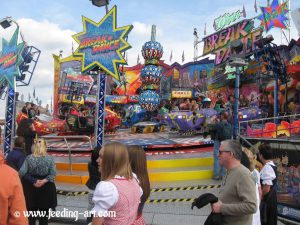 When the city began allowing beer on the fairgrounds, their number increased steadily. In 1896 fairgrounds were replaced by beer halls (the beer tents today) which were sponsored by the local breweries.
The Costume and Riflemen's Procession takes place on the first Sunday of the festival, in which some 7000 performers in traditional costumes and historical uniforms, marching bands, thoroughbred horses and other livestock, old-fashioned carriages – parade through the streets of Munich's city center showcasing the diversity of local, regional, and national customs.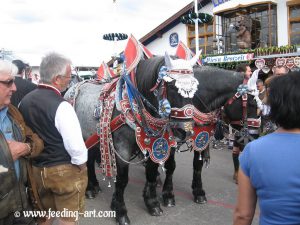 The drinking doesn't start until the mayor says "O'zapft is!" The mayor of Munich opens the festivities at noon on the first day of the fair when he drives the wooden tap into a barrel of beer and proclaims: O'zapft is! ("It's tapped! Or ''It is open!").
Dress like a real Oktoberfest fan….so I did…
Dress code for Oktoberfest is really simple – lederhosen and dirndls :). For women is easier because she can wear both….dirndls (long and short) in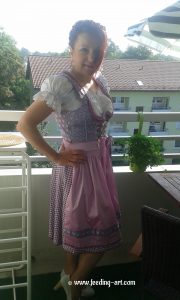 thousands different colors and motives, lederhosen long and short. I like bright colors and was happy to wear red and green.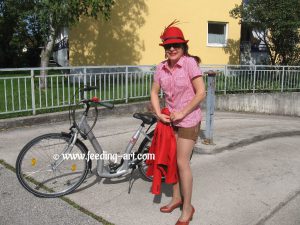 Hairstyle for women? If your hair is long enough, go for some braids which are an all time favorite among dirndl style hairdos. I enjoyed this hairdo with long and shorter hair.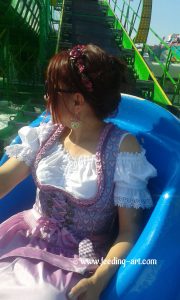 Romantic flower hair-bands in matching colors, traditional hats with feathers fit that traditional Oktoberfest look.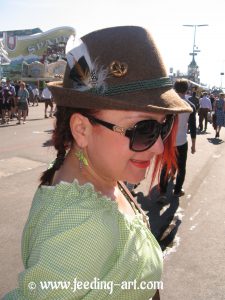 And what about Oktoberfest beer?
Just 6 original Munich breweries (characterised by a long tradition, much experience in brewing and and the strict adherence of the "Reinheitsgebot" (Bavarian Purity Requirements)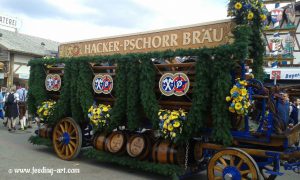 – Augustiner, Hacker-Pschorr, Hofbräu, Löwenbräu, Paulaner and Spaten are permitted to serve beer at the festival.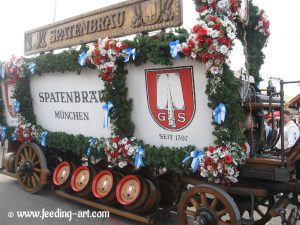 Beer is served by the Maß, a one-liter mug, and costs (this year) between 10.60 and 10.95 euros. Beer maids and waiters must be able to carry 10 of these beer-filled mugs at a time.
Even every year are prices bigger, it does not stop visitors to wait long hours in front of breweries tents to enter and dring for hours.
What is traditional food at the Oktoberfest?                                        
All over the fairgrounds are Hendl, whole chickens grilled on a spit and typically sold in halves.
Variations are the spit-roasted duck or goose. Roasted meats, especially pork, and potato dumplings are served up with the traditional red cabbage and apple dish (Blaukohl),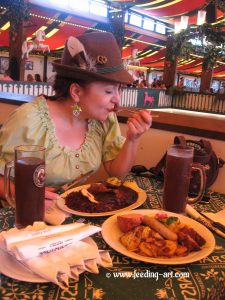 sauerkraut with or without bacon, pickled chunk of ham (Schweinshaxe) and mashed potatoes, grilled sausages (bratwurst) and currywurst with bread roll. Local specialties such as roasted ox tails, grilled pork knuckles, or Bavarian Weißwürste (white sausages) – steamed white veal sausages served with sweet mustard and Bavarian Brez'n (soft pretzels, in XXL size can be found all over Oktoberfest)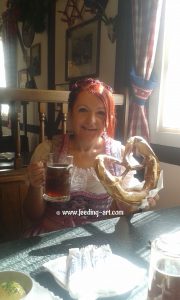 are found on just about every menu. Visitors searching for some seafood might try the charcoal-fired fish on a stick (Steckerlfisch) or Crab, fish and shrimp served with mayonnaise sauce in a bread roll.
Oktoberfest does not go without potato salad or potato soup so and even vegetarians won't go hungry, warm, soft pretzels, cheese plates with traditional bavarian bread, or one of the many meatless dishes served up in each of the tents. Typical dessert dishes include Dampfnudel, a steamed bread dumpling served with vanilla sauce, apple strudel, and Kaiserschmarrn, a sugared pancake with raisins.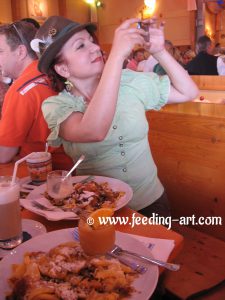 Apart from eating in tents, all over Oktoberfest fairgrounds you can buy from pan-roasted, sugar-glazed almonds (gebrannte Mandeln),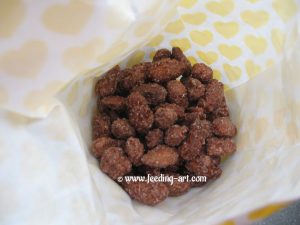 cotton candy (Zuckerwatte), crepes, glazed fruits (white and dark chokolade, different flavours) to ice cream……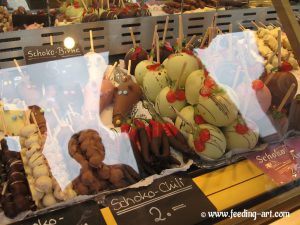 Munich's Oktoberfest has something to satisfy every sweet tooth. The most known Oktoberfest sweets and souvenirs are decorated gingerbread hearts (Lebkuchen) with slogans and phrases iced onto them.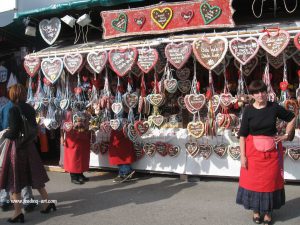 And not less important for the great party – Oktoberfest music!
Music at the Oktoberfest is so important as beer. The band will, before each break, call visitors with "ein Prosit der Gemütlichkeit", a toast to contentment and relaxation.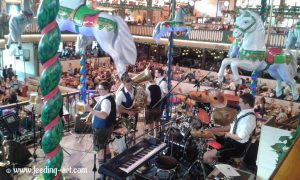 Late in the evening the music becomes louder and more and more people begin to sing.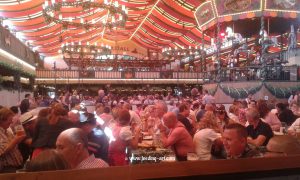 Even totaly strange people linking arms together and swinging beer mugs from side to side, some standing and swaying and dancing on benches. Let's say…Oktoberfest conect people :)!
German folk music is not the only sound you will hear. International hits like "New York, New York", "Country Road", "YMCA" and even disco- and rock-inspired tunes are to be heard from the beer tents.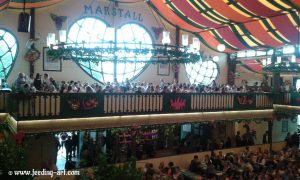 But, you won't have to look far to find a brass band pumping out a German drinking song: Eins … zwei … g'suffa! Prost!
Did you know that this year it is the 184th Oktoberfest……did you choose your lederhosen yet?
-Croatian version-
Priča se…..
Da je Oktoberfest najveći festival piva na svijetu koji se održava u Münchenu-u, Njemačka (ove godine održava se 184 puta). Svake godine Oktoberfest u samo 16 dana posjeti više od 6 milijuna turista koji popiju više od 7 milijuna litara piva (unatoč porastu cijena svake godine), pojedu 200 000 pari svinjskih kobasica i 480 000 pečene piletine. Ove godine u 16 velikih i nekoliko manjih sala naći će se 119 000 sjedećih mjesta istovremeno, a da nitko ne ostane gladan ili žedan pobrinut će se 13.000 zaposlenika. S ponosom se može reći da je Oktoberfest jedna od najvećih i najprofitabilnijih turističkih atrakcija Bavarske – blagajnu u samo 16 dana obogati za više od 450 milijuna eura! Sinonimi za Oktoberfest su obožavatelji piva i mesa odjeveni u popularne lederhose (kožne hlače) i dirndl (tradicionalne haljine), a posjetitelji dolaze iz cijeloga svijeta…..Da se ne radi samo o ispijanju velike količine piva pobrinuli su se organizatori – jedan dan u tjednu posvećen je obitelji te se cijene i ponuda prilagođava djeci i roditeljima. U pravom smislu riječi festival za svakoga….
A kako je sve počelo?
Davne 1810 godine, 12 listopada, Princ Ludwig (kasnije Kralj Ludwig I) oženio je Princezu Therese od Saxony-Hildburghausen i svi stanovnici Münchena bili su pozvani na slavlje koje se održavalo na velikoj livadi pred vratima samoga grada. U čast Princezi Theresi od tada se ta velika zelena površina nazova Terezino polje i od toga dana Oktoberfest se održava upravo na tome mjestu. I kada vam kada vam lokalno stanovništvo s ponosom kažu "welcome to the Wies'n" to jednostavno znači "dobrodošli na Oktoberfest"!
U posljednjih 200 godina Oktoberfest je bio otkazan samo 24 puta i to zbog epidemije kolere i rata.
Od samoga početka program na Oktoberfestu bio je vrlo bogat i raznolik, od poljoprivrednih sajmova do u 1818 godini postavljenih vrtuljaka i ljuljački, organiziranih natjecanja u raznim disciplinama za zabavu posjetitelja (penjanje, trčanje u vrečama, utrke gusaka i slično). Prvi puta u 1870-toj došle su i razne mehaničke ljuljačke i vrtuljci, a 1908 Oktoberfest je obogaćen za prvi njemački "Roller Coaster". U početku je bilo zabranjeno prodavati alkoholna pića na Oktoberfestu, tek nešto kasnije se na otvorenom moglo prodavati pivo, a tek od 1896 može se reći da počinje prava konzumacija piva na Oktoberfestu zbog čega je i poznat kao festival piva. Naime, tada su se osnovale prve zatvorene sale koje su bile sponzorirane od lokalnih proizvođača piva.
Prva nedjelja Oktoberfesta rezervirana je za mimohod oko 7000 ljudi u narodnim nošnjama i povijesnim uniformama, sa starinskim kočijama i pažljivo uređenim konjima, predstavljajući svu povijesnu vrijednost i ljepotu lokalne, regionalne i nacionalne baštine.
Ispijanje piva na Oktoberfestu ne smije početi dok gradonačelnik ne kaže "O'zapft is!" Gradonačelnik Münchena otvara Oktoberfest u podne prvoga dana festivala zabijanjem pipe u prvo bure s 200 litara piva i svečano izgovara: O'zapft is! ("Otvoreno je!"). I to je početak točenja oko 7 milijuna litara piva u samo 16 dana……
A kako se odjenuti kao pravi Oktoberfest fan?…Ovako je to bilo kod mene iz godine u godinu…
Odjeća za Oktoberfest pravi je hit i gotovo svaki posjetitelj i posjetiteljica bez obzira iz kojeg dijela svijeta dolaze prvo odabere svoje lederhose ili dirndl pa tek onda pravac Oktoberfest…Za žene izbor je daleko veći, lederhose (kožne hlače karakteristične za Oktoberfest) mogu izabrati u obliku vrućih hlačica, bermuda ili ¾ dužine hlača. Uz to košulje u različitim vedrim bojama, šeširići sa sitnim detaljima, jakne ukoliko je hladno kao ove godine…a najdraži komad odjeće za žene svakako su prelijepe haljine poznate pod imenom Dirndl. Duže ili kraće uz romantične košulje i prikladne pregače. Ni ja im nisam mogla odolijeti pa sam se odlučila za Dirndl lila kombinacije. Ali sam jednako uživala noseći lederhose kako u kraćoj tako i u dužoj varijanti.
S jednakom pažnjom treba se posvetiti i frizuri, pa je tako za Oktoberfest karakteristično imati barem jednu pletenicu, a kosu svakako ukrasiti sa cvijetićima ili odabrati šeširić ukrašen pravim Oktoberfest detaljima.
Što se to od pive pije na Oktoberfestu?
Na Oktoberfestu se prodaju samo 6 originalnih piva koje proizvodi 6 pivovara u Münchenu i okolici (moraju imati dugu tradiciju, puno iskustva u proizvodnji piva i strogo pridržavanje pravila oko proizvodnje piva – a to su Augustiner, Hacker-Pschorr, Hofbräu, Löwenbräu, Paulaner i Spaten. Pivo se prodaje u kriglama od 1 litre, tzv. Maß, i svake godine je sve skuplje. Ove godine 1 l piva košta između 10.60 and 10.95 eura. Konobari i konobarice koje poslužuju pivo moraju biti u mogućnosti nositi 10 krigli piva odjednom…i bez obzira na silnu gužvu ispred svake sale koju sponzorira jedan od 6 navedenih proizvođača piva, sati čekanja često na kiši i niskoj temperaturi (ove godine otvorenje Oktoberfesta proteklo je kišovito na samo 10 C), skupoće piva i hrane, ništa ne može zaustaviti istinske ljubitelje Oktoberfesta da i ove godine uživaju u svojoj krigli piva…Prost!
A ne, nije sve u pivi….ima nešto i u mesu 🙂                                    
Nekoliko je tradicionalnih jela bez kojih Oktoberfest nikako ne može – pečeno pile (najčešće se prodaje pola pečenog pileta kao jedna porcija), pečena patka ili guska, pečena svinjetina, okruglice od krumpira, dinstani crveni kupus s jabukama, dinstani kiseli kupus sa ili bez slanine, pečena svinjska koljenica, pire od krumpira, pečene svinjske kobasice i curry kobasica u žemlji. Bijele kobasice (Weißwürste) servirane uz slatki senf i tradicionalne bavarske perece neizostavno je bavarsko jelo prilikom svakog slavlja pa tako ni Oktoberfest ne može proći bez njih, a perece se peku čak i u XXL veličini. Nisu zaboravljeni ni ljubitelji ribe koji mogu birati između ribe na rašljama ili riba i škampi servirani s majonezom u žemlji. Tu su još i krumpir salata ili krumpir juha, bogate plate sa sirom, sušenim kobasicama, šunkom, mast s fritiranim lukom, namaz od jetrica, Obatzda (karakterističan bavarski sirni namaz), domaći crni bavarski kruh.
Tipični deserti na Oktoberfestu su tzv Dampfnudel, servirana topla s umakom od vanilije, štrudla od jabuka najčešće također s umakom od vanilije i Kaiserschmarrn serviran s grožđicama, šećerom u prahu i umakom od jabuka.
Jelo se ne služi samo u salama i zatvorenim prostorima. Na svakom otvorenom dijelu Oktoberfesta mogu se kupiti ušećereni bademi (gebrannte Mandeln), šećerna vata (Zuckerwatte), palačinke, glazirano voće ili voće preliveno čokoladom, sladoled……
Nesumljivo da Oktoberfest nudi i u ovom gastro dijelu za svakog ponešto.
Međutim, najpoznatiji slatkiš i suvenir je svakako medeno srce tradicionalno ukrašeno (Lebkuchen) sa ispisanim prigodnim sloganima i frazama.
I ne manje bitno za odličnu zabavu – Oktoberfest bend!
Jednako kao i pivo na Oktberfestu je bitna glazba i to uz bend uživo. Bend bi prije svake stanke pozvao posjetitelje da s kriglom u zraku nazdrave za dobro raspoloženje "ein Prosit der Gemütlichkeit". Kako se približava noć glazba postaje sve glasnija i sve više posjetitelja pridružuje se bendu u pjevanju uživo. Čak i potpuni stranci koji ne razumiju niti riječi njemačkog pokušavaju uhvatiti ritam i pridružiti se glasnom pjevanju, zajedno s ostalim posjetiteljima u jednome ritmu nazdravljaju s kriglama u zraku i uživaju do kasnih večernjih sati u odličnoj zabavi.
Međutim, nije neuobičajeno svakodnevno čuti kako bend i publika uživo pjevaju hitove poput "New York, New York", "Country Road", "YMCA" kao i ostale disco i rock hitove.
Pa što reći na kraju…Oktoberfest zaista povezuje ljude, svjesno ili nesvjesno, barem na 16 dana :)!