I did prepare this dish, with little changes, thanks to the lovely Mamma and Daughter from Blog www.allomamanwhatscooking.com
I am really pleased to follow theirs Instagram because their photos are very natural and opens appetite thanks simple recipes and fresh ingredients. Their photos are real, ''no filter'' photos, no matter is it about the moment in the kitchen, simple photo of beautiful, colorful spices and vegetables of photos of finished dish. This dish, Faro+Tabbouleh I did notice instantly because it has all ingredients I really love. It is very simple and easy to make, the most of the time you need to prepare homemade hummus (if you make it from fresh chickpeas, because you need to soak them in water about 12 hours).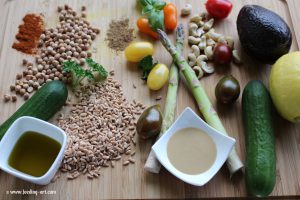 Because of lemon, fresh mint, basil and homemade olive oil (my is from Insel Korčula/Croatia), dish is very refreshing, light and I can recommended it to use it as filling for wraps…you are not going to regret if you try it, just send us some photos 🙂
For Tabbouleh:
Faro
Mini tomatoes, different colors
Cucumber
Asparagus, green
Avocado
Lemon
Parsley, Basil and Mint
Salt and pepper
Olive oil
Cashew nut
For Hummus:
Tahini paste
Chickpeas
Lemon juice
Chili powder
Ground cumin
1 garlic clove
Sweet paprika powder
Water as needed
Flatbread:
Link: http://feeding-art.com/2017/08/20/roasted-vegetables-with-flatbreadpeceno-povrce-s-lepinjama/
For Tabouleh: Cook Faro according to package instruction and cool it down. Wash mini tomatoes and cut it in half, bigger pieces cut in four. Peel cucumber and slice in thin half moon. Cut lower part of asparagus and cut the rest diagonal in thin slices.
Grill it shortly. Toast cashew nuts. Slice avocado thinly. Mix it all together and season with salt, pepper, olive oil and lemon juice.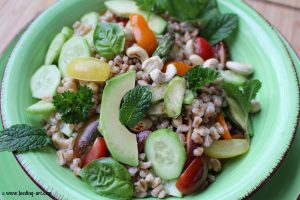 Add finely chopped parsley, mint and basil.
For Hummus: Cook chickpeas after instruction (or buy a can of cooked chickpeas).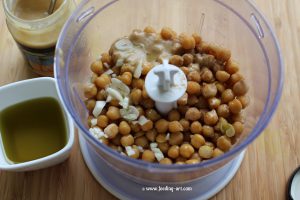 Mix it with tahini paste, lemon juice, pepper, chili powder, cumin, garlic, olive oil and little bit of water if needed. Mix it until you get smooth mixture.
To serve:
Spread on the plate thin layer of humus, sprinkle with some paprika powder and pour some homemade olive oil.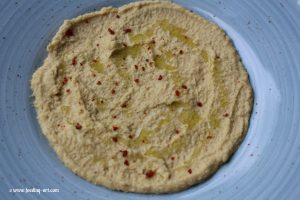 In the middle of hummus place some Tabbouleh and decorate with parsley, basil and mint. Serve with flatbread.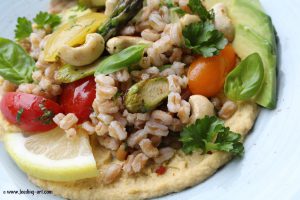 -Croatian version-
Recept, uz vrlo male izmjene, preuzet je s bloga www.allomamanwhatscooking.com koje uspješno uređuju i vode mama i kćer.
Rado pratim njihov instagram jer su im slike prirodne i otvaraju apetit svojim jednostavnim receptima i svježim namirnicama. Volim njihove fotografije jer su, kako ih ja nazivam, stvarne fotografije J, bilo da se radi o trenutku kuhanja, jednostavnoj fotografiji prekrasnih začina i povrća ili pak gotovih jela. Tako sam i ovaj Tabouleh s humusom lako uočila jer povezuje sve namirnice koje volim :). Najduže traje izrada humusa ako ga radite kao ja od svježeg slanutka kojeg je potrebno prethodno namakati u vodi barem 12 sati kako bi se brže skuhao. Sve ostalo, kao i domaće lepinje, gotovo je u vrlo kratkom vremenu. Zbog limuna i domaćeg maslinovog ulja (moje je s Korčule) jelo je osvježavajuće, lagano i bilo bi odlično u kombinaciji s wrap tijestom…
Za Tabouleh:
Pir
Mini rajčice raznih boja
Svježi krastavac
Zelene šparoge
Avocado
Limun
Svježi peršin, bosiljak i menta
Sol i papar
Maslinovo ulje
Indijski oraščići
Za Humus:
Tahina pasta
Slanutak
Sok limuna
Čili u prahu
Mljeveni kim
1 češnjak češnjaka
Slatka paprika u prahu
Po potrebi malo vode
Lepinje:
Link: http://feeding-art.com/2017/08/20/roasted-vegetables-with-flatbreadpeceno-povrce-s-lepinjama/
Za Tabouleh: Ječam skuhati po uputi na pakiranju i ohladiti. Mini rajčice oprati i prepoloviti, a veće narezati na četvrtine. Krastavac oguliti i narezati na tanke polumjesece. Zelenim šparogama odsjeći donji dio te ih dijagonalno nasjeći na tanke ploškice i kratko ih na tavi grilati. Indijske oraščiće tostirati na tavi bez masnoće. Avokado narezati na tanke ploške. Sve zajedno pomiješati i začiniti sa soli, paprom, maslinovim uljem i sokom od limuna. Narezati svježi bosiljak, mentu i peršin te pomiješati s ostalim sastojcima.
Za Humus: slanutak skuhati prema uputi na vrećici (ili kupiti slanutak u konzervi koji je već skuhan). Staviti u multipraktik te dodati tahini pastu, sok limuna, papar, čili u prahu, kumin, češnjak, maslinovo ulje i po potrebi malo vode. Sve dobro izmiksati dok ne dobijete glatku, jednoličnu smjesu.
Serviranje:
Na tanjur staviti tanki sloj humusa, posuti s malo paprike u prahu te preliti s malo domaćeg maslinovog ulja. Na humus staviti Tabouleh i dekorirati s listićima peršina, bosiljka i mente. Servirati uz lepinje narezane na trokutiće.