Für 12 Cakepops:
70g weiche Butter
70g Zucker
1 Ei
75g Mehl
1 Msp. Backpulver
40g Frischkäse
70g gesiebter Puderzucker
Butter oder Backpapier für die Form
Schlagen sie Butter mit dem Zucker schaumig, geben sie dann das Ei hinzu und rühren es gründlich unter. Vermischen sie das Mehl mit dem Backpulver und rühren sie die Mischung nach und nach unter.
Geben sie den Teig in die Form (Kastenform 18×10) und backen etwa 15 Minuten auf 175°C.
Lassen sie ihn dann etwa 30 Minuten in der Form abkühlen, bevor sie ihn aus der Form stürzen und auf einem Kuchengitter vollständig auskühlen lassen.
Verrühren sie den Frischkäse gründlich mit dem Puderzucker. Schneiden sie die harten Ränder des Kuchens weg und zerbröseln sie den Kuchen mit den Händen. Vermischen sie die Frischkäsemasse mit den Kuchenbrösel und formen sie dann aus der Masse 12 Kugeln. Legen sie die Teigkugeln etwa 1 Stunde in den Kühlschrank, damit sie fest werden.
Für einen dunkelen Schoko-Teig verwenden sie nur 60g Mehl und rühren ganz zum Schluss 1EL Kakaopulver unter den Teig.
Wenn die Teigkugeln gut durchgekühlt sind, werden sie auf Cakepop-Stiks gespießt. Dabei empfiehlt es sich, die Sticks vorher einige Zentimeter tief in Schokoglasur zu tauchen, bevor sie genauso tief in die Kugeln gestochen werden. So bleiben die Kugeln besser an den Sticks kleben. Wenn der "Kleber"getrocknet ist, können die Cakepops glasiert werden.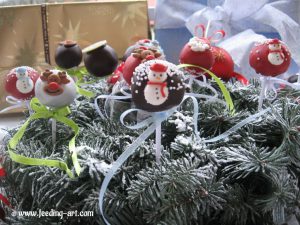 Für die Glasur können sie verwenden, dunkele, Vollmilch, weisse oder farbige Schokolade.
Für die Verzierung: bunte Zuckerperlen, Lebensmittelfarbe, Rollfondant, Marzipan……
-Kroatische version-
Recept za 12 komada:
70g maslaca
70g šećera
1 jaje
75g glatkog brašna
vrh noža praška za pecivo
malo korice od limuna ili naranče (po želji)
40g svježeg sira
70g šećera u prahu
Ako hoćete čokoladni kolač stavite umjesto 75g brašna, 60g brašna i 1 veliku žlicu kakaa.
Maslac i šećer pjenasto izmješati, dodati jaje i sve to sjediniti. Brašno i prašak za pecivo prosijati te dodati smjesi. Pecite u formi 18cm dužine, 10cm širine oko 15-tak minuta na 175°C. Kad je pečeno kolac dobro ohladiti.
Pomiješati svježi sir sa šećerom u prahu, izmrviti ohlađeni kolač te sve to zajedno rukama sjediniti.
Oblikovati 12 kuglica. Ostaviti kuglice oko 1 sat u hladnjaku da se stvrdnu.
Kada se kuglice dobro ohlade uzmite štapice koje prije toga umočite u otopljenu čokoladu (bolje se drze kuglice na štapiću) i lijepite ih za kuglice. Ostaviti jos malo u hladnjaku da se čokolada stvrdne.
Tako sigurno neće pasti kuglice sa štapica pri dekoriranju.
Kuglice umačite u glazuru od tamne, mliječne, bijele ili ako možete nabaviti neku čokoladu u boji te nabodite štapice u stiropor da se glazura može dobro osušiti. Ako se koriste perle od šećera za dekoraciju, posuti prije nego se glazura osuši. Ako se prave neke tematske dekoracije kao sto smo mi specijalno božićne cakepops radili, onda na potpuno suhoj glazuri dalje raditi. Koristili smo fondant, perle od šećera, čokoladu…….