It is not about my love for red color that I bake and cook so much with beetroots. I really love it. I make often fresh juice from beetroots, carrots, apples and ginger. Love it as salad with feta cheese and our Croatian well known olive oil. Did bake amazing and mega delicious sourdough beetroot bread (you can find recipe in blog). And of course, homemade pasta with beetroot…this is very, very delicious. So many possibilities with this really power vegetable…and in every dish you have the most beautiful, bright color and not a too strong taste of beetroot…so even you cannot imagine to eat it, please try it in some of those recipes..you are going to love it for sure.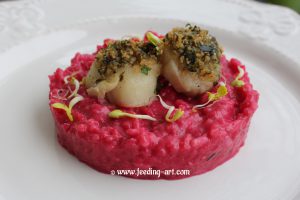 Baked beetroots:
3-4 beetroots
Thyme
Olive oil
Corse salt and pepper
3 cloves of garlic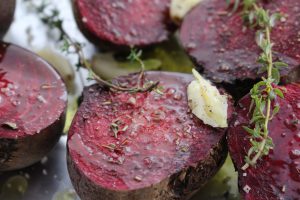 Wash beetroots, cut in half, season with olive oil, thyme, salt, pepper and garlic. Cover with aluminum foil and bake in preheated oven (180 C) until soft. Bake last 15 minutes without foil in order that beetroots get some color and taste of baked beetroot.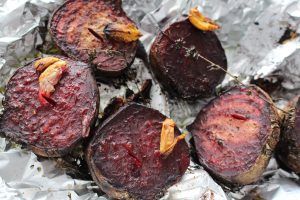 Let it cool down for a while and mix them together with baked garlic. Make smooth puree and season as needed with lemon zest, thyme, salt and pepper.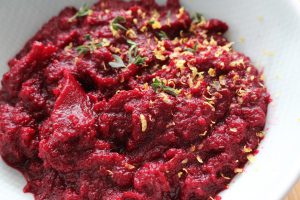 Risotto:
Rice for risotto
1 shallot
50ml white wine
Water as needed
Salt and pepper
Fresh thyme
Little bit of olive oil
Pecorino cheese
10g butter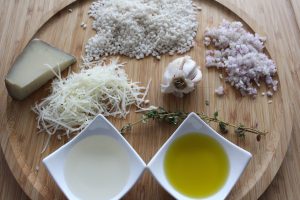 Put little bit of olive oil in a frying pan and sauté shallot and rice. Add white wine and reduce. Pour so much water that cover rice and add fresh thyme, salt and pepper.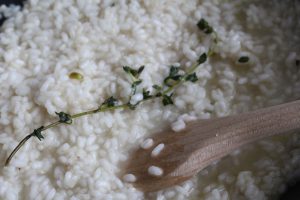 Cook on medium heat and add water if needed. Stir regularly. When rice is al dente, add beetroot's puree (so much it tastes good for you). Remove from heat, add butter and pecorino cheese. Stir well and season as needed.
Scallops
Season scallops with salt and pepper and bake them shortly in a frying pan using olive oil, fresh thyme and two gloves of garlic.
Remove from heat and put at the op side some spice crust and bake it shortly in oven until nice crunchy and little bit brown.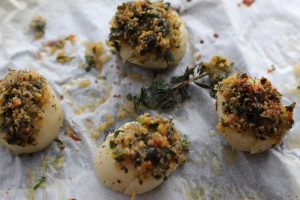 Mixture for scallop's spice crust
Fresh parsley and thyme
Olive oil and lemon zest
Whole grained bread crumbs
Finely chop parsley and thyme, mix with bread crumbs, olive oil and lemon zest.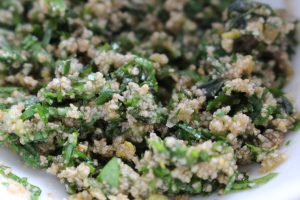 For decoration use some sprouts or other green, fresh herbs.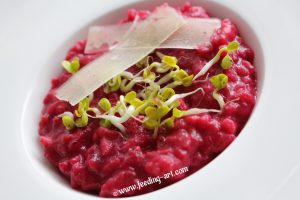 -Croatian version-
Cikla mi je jedna od omiljenih namirnica u kuhinji jer svakom jelu daje posebnu boju, a ne preuzima okus jelu. Primjenjiva je u nebrojenom jelima, a ja sam posebno oduševljena domaćim kruhom s kiselim tijestom i ciklom koji sam nedavno radila (recept je na blogu). Rižoto obogaćen pireom od pečene cikle lagani je obrok upotpunjen jakobovim kapicama sa zapečenom koricom od začina. Ovo je jedno od onih mediteranskih, proljetnih jela koje najavljuje proljeće i žive boje na tanjuru. A ako pire od cikle upotrijebite za izradu domaće tjestenine i servirate uz feta sir, pesto od rukole i indijske orahe svakako dobit ćete još jedno takvo jelo – lagano, proljetno, osvježavajuće. Često pravim i sok od cikle, đumbira, jabuka i mrkve, u planu su i ljubičasti njoki…a do tada uživajte u receptu pred vama…
Pečena cikla:
3-4 cikle
Timijan
Maslinovo ulje
Krupna sol i papar
3 češnja češnjaka
Ciklu dobro oprati, prepoloviti, začiniti s maslinovim uljem, timijanom, soli, paprom i češnjakom. Zamotati u aluminijsku foliju i peći u pećnici dok ne omekani. Zadnjih 15 minuta peći bez folije da cikla dobije boju i okus pečene cikle. Ostaviti da se malo ohlade te iz zajedno s češnjakom koji se pekao s njima purirati u pire. Začiniti po potrebi ribanom koricom limuna, timijanom, soli i paprom.
Rižoto:
Riža za rižoto
Pire od pečene cikle
1 ljutika
50ml bijelog vina
Voda po potrebi
Sol i papar
Dvije grančice svježeg timijana
Malo maslinovog ulja
Pecorino sir
10g maslaca
Ljutiku i rižu kratko prodinstati na maslinovom ulju. Podliti vinom i reducirati. Dodati vode toliko da prekrije rižu, grančice timijana, soli papar. Kuhati na srednje jakoj vatri i po potrebi dodavati vodu. Kada je riža skuhana al dente dodati pire od cikle po okusu. Maknuti s vatre i dodati maslac te ribani pekorino sir. Po potrebi dodati sol i papar.
Jakobove kapice
Jakobove kapice posuti s malo soli i papra i na maslinovom ulju uz dodatak grančica svježeg timijana i dva češnja češnjaka u tavici kratko s obje strane prepržiti. Maknuti s vatre i na gornju stranu staviti smjesu od začina i mrvica te minutu-dvije zapeći u pećnici.
Smjesa za koricu od začina za jakobove kapice
Svježi peršin i timijan
Maslinovo ulje, korica limuna
Punozrne mrvice
Nasjeckati peršin i timijan, pomiješati s punozrnim mrvicama i maslinovim uljem te dodati koricu limuna. Dobro promiješati u homogenu smjesu.
Za dekoraciju jela koristiti klice ili neki drugi zeleni svježi začin po želji.