When I was a little girl, my Mum used to buy nettle shampoo. We believed t makes your hair strong and healthy. For a long time I drink nettle tea, hoping it is great cure for my health. I buy it always at the same place, in my hometown, at the market, from the guy who is collecting fresh nettles, dry them and make tea. The preparation takes some time, and I drink it without any sugar, milk or honey. But be careful when collecting nettles, always wear gloves as you can burn yourself easily.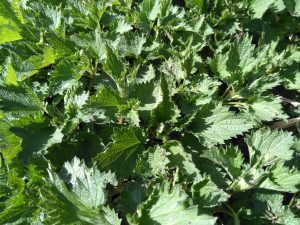 Few years ago I made pesto, soup and bread from nettles, but this time I decided to make some juices.
I did not want to make syrup because it needed lots of sugar, and I wanted healthier version of ice tea for hot summer days. But, if you like sweeter, you can always add more honey once juice is served.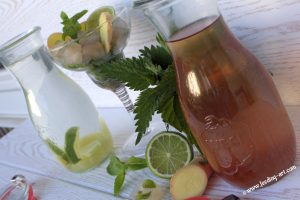 To give an extra kick to the nettle juice, dilute it with aromatized water (as written in recipe), cold or with some ice cubes made from nettle juice (fill ice cube molds with nettle juice, add some mint leaves and/or little piece of lime and freeze).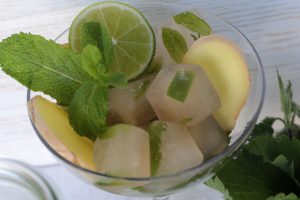 Serve nettle juice with aromatized water as described in recipe and do not say your guests what kind of juice is it before they try it – they will be pleasantly surprised.
At the end, this is much healthier ice tea that you can enjoy in summer.
Nettle juice:                          
Nettle, only upper part (cca 4-6 upper leaves, about 400g)
Water
Lemon (as needed)
50g brown sugar
Honey as needed
To serve:
Mineral water
Ginger
Lime or lemon
Mint fresh
Wash Nettle and put in a big pot with cold water. Add one lemon cut in not too small pieces (if you do not have bio lemon, just peel the skin). Let it boil and cook for 10 minutes at the medium heat.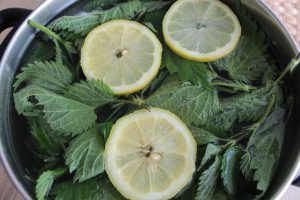 Remove from heat and pour sugar syrup from 50g brown sugar and 50ml water. Let it cool down for a while then squeeze nettle and lemon and strain the whole liquid through strain cloths. When juice is cold, add honey as needed (it depends how sweet you want Nettle juice). Because this juice contains only fresh ingredients, please keep it no longer as 7 days in fridge. The rest you can put in freezer. I would suggest to drink this juice diluted with water (50:50).
To serve:
For all of those who are not keen to drink nettle juice or tea, or if you just want to enrich the taste of nettle juice, I highly recommend to use aromatized water to dilute juice. In one bottle serve nettle juice. In another bottle pour mineral water, add some ginger and sliced lime or lemon (bio, if not then peel the skin). Leave over night in fridge. Before serving, add some mint leaves. With this aromatized water dilute nettle juice in ratio 50:50. It is perfect refreshing for summer days. Instead of mineral water you can use plain water too.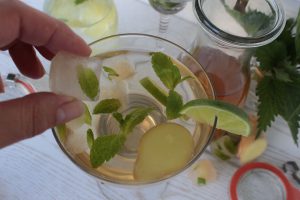 -Croatian version-
Mene kopriva prati od ranih godina života. Sjećam se da je mama gotovo uvijek kupovala šampon od kopriva, kasnije sam počela piti, relativno redovito, čaj od koprive nadajući se da će mi popraviti razinu željeza u krvi. Još uvijek sam mu vjerna, kupujem ga svaki puta kada sam u Vinkovcima, na placu kod istog, kako ga mi zovemo "travara" i pijem ga bez meda, šećera ili nekih drugih dodataka. Mislim da smo oduvijek uvjereni u čarobna, zapravo ljekovita svojstva te biljke koja vrlo neugodno može opeći ne nosite li rukavice prilikom branja.
Prije par godina koristila sam koprivu za izradu pesta, kuhanje juhe i pečenje kruha, a ove godine odlučila sam se za pripremu soka.
Nisam pripremala sirup jer on zahtijeva dosta šećera, a ja sam nastojala na šećeru zaista "uštedjeti". Međutim, slobodno ga po potrebi zasladite medom prilikom serviranja.
Da bi soku dali poseban "štih", razrijedite ga s aromatiziranom vodom, rashlađeno ili uz dodatak kockica leda koje ste napravili upravo od soka koprive (jednostavno kockice za led napunite sokom od kopriva, dodajte listić mente i/ili komadić limete i zamrznite). U ovoj kombinaciji ponudite ga gostima bez da ste im otkrili o kojem soku se radi, biti će ugodno iznenađeni. A za vas je ovo u svakom slučaju zdravija varijanta (od onih kupovnih) hladnoga čaja za ljetne dane.
Sok od koprive:                          
Svježa kopriva, gornji dio, 4-6 listova (oko 400g)
Voda
Limun po okusu
50g smeđeg šećera
Med po okusu
Serviranje:
Mineralna voda
Đumbir
Limeta ili limun
Listići svježe mente
Koprivu oprati te listove i stabljike staviti u lonac s hladnom vodom. Dodati jedan dobro oprani bio limun narezan na ploške ili manje komade (ako nemate bio ili domaći neprskani limun, onda ogulite limun). Pustiti da prokuha te10 minuta na laganoj vatri kuhati. Skloniti s vatre te preliti sa šećernom sirupom od 50g smeđeg šećera i 50ml vode. Ostaviti da se malo ohladi te dobro iscijediti koprivu s limunim i na kraju ocijediti tekućinu kroz gazu ili tkaninu za pasiranje. Kada se sok ohladi, po okusu ga zasladiti medom. S obzirom da nema konzervansa, ostaviti sok najduže do 7 dana u hladnjaku. Ostatak zamrznuti u plastičnim flašama ili u vakumiranim vrećicama. Piti razrijeđen s vodom (50:50).
Prijedlog za serviranje:
Za sve one koji baš i ne vole okus koprive, ali i sve koji žele obogatiti okus soka od koprive, toplo preporučam način na koji sam ja servirala sok. U jednu bocu poslužiti mineralnu vodu, rashlađenu, u koju ste stavili nekoliko komada svježeg đumbira i limuna ili limete (ako nemate domaći limun ili bio, obavezno ga ogulite). Ostavite preko noći u hladnjaku da se okusi sjedine. Prije posluživanja ubacite u vodu par listića mente. S ovako aromatiziranom vodom razrijedite sok od kopriva u omjeru 50:50. Idealno za ljetne dane. Naravno da umjesto mineralne možete koristiti i običnu vodu.