Bright colors, spring tastes, fresh ingredients…sunny day at the table. Spring is time when I enjoy wild garlic most as pesto with different dishes….pasta, gnocchi, dip, bread and with this beautiful and delicious tart. Just have a look how yellow ricotta- saffron play with bright green wild garlic pesto…at the moment it is just hard to take a bite not to disturb this beauty. But, once you try, you cannot stop eating…I would recommend fresh, seasonal salad with light vinaigrette joined with domestic olive oil and bunch of fresh spices…..enjoy recipe….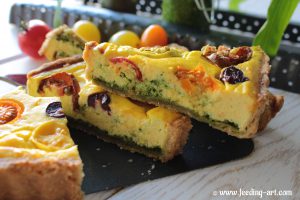 Dough:
250 g flour (125g white flour and 125g whole grain white flour)
170g butter, room temperature
1 egg and 1 egg yolk
½ coffee spoon of salt
All ingredients should be at the room temperature. Mix all ingredients together and knead dough, leave half an hour in the fridge. Roll the dough thinly and put in a baking tray with a baking paper.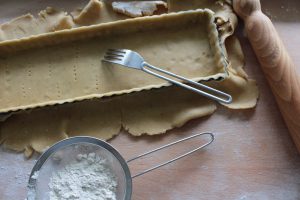 I used rectangular form 35*10cm and from this amount of dough I did bake two of them. Carefully shape edges with your hands. Prick the dough with a fork. Put a baking paper all over the dough and place rice to avoid dough from rising while baking.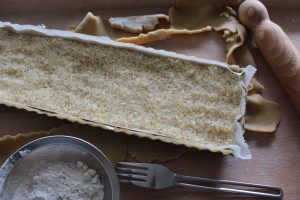 Preheat oven and bake for about 10 minutes at 170C. Carefully remove baking paper with rice and let the dough cool down.
Filling:
250g ricotta cheese
4 eggs
100ml cooking cream
Salt as needed
Little bit of saffron threads diluted with some water or saffron powder
50g grated parmesan
Mix all ingredients together.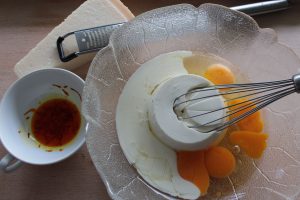 Wild garlic pesto:
Bunch of wild garlic
2 cloves of garlic
Handful of cashew nuts
Olive oil as needed
½ Lime juice
Mix all ingredients in pesto.
Others:
Mini tomatoes (different size and colors). Little bit of brown sugar.
When half baked dough cold is, put some wild garlic pesto at the bottom.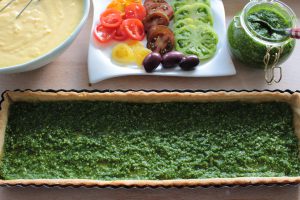 At the top of it put some ricotta filling (up to half the height of the baking form).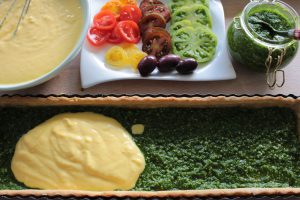 Add 2 Soup spoon of wild garlic pesto and spread through ricotta filling with a fork (to have nice yellow/green pattern after baking).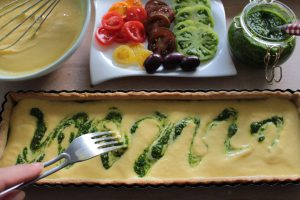 At the end place some thinner layer of ricotta cheese (about ½ of finger bellow the edge of baking form)
Cut tomatoes in thin slices, sprinkle little bit of brown sugar, salt and pepper. Place at the top of tart as well as some Kalamata olives if you like.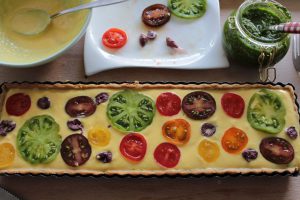 Preheat oven (180 C) and bake tart about 25-35 minutes (depends on oven).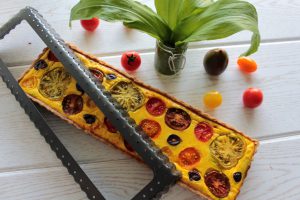 -Croatian version-
Vesele boje, proljetni okusi, svježi sastojci….proljeće na stolu. Jedva čekam svježi medvjeđi luk i najčešće od njega pravim pesto. Uz tjesteninu, njoke, rižoto, kruh, a danas uz ovaj veseli i prefini tart. Zbog isprepletenosti vesele žute boje ricotta sira i šafrana te zelene boje svježeg pesta na trenutak vam bude žao zagristi u ovo mekano božanstvo….a kada jednom zagrizete….ne možete prestati jesti….Uz tart poslužiti sezonsku salatu uz klasični vinaigrette od domaćeg maslinovog ulja i ne štedite na svježim, sitno sjeckanim začinima (vlasac, peršin, bosiljak, timijan….) uživajte u receptu….
Tijesto:
250 g brašna (125g glatkog bijelog i 125g punozrnog bijelog brašna)
170g maslaca sobne temperature
1 jaje i 1 žumanjak
Pola kavene žličice soli
Svi sastojci trebaju biti sobne temperature. Brašno prosijte te s ostalim sastojcima zamijesite tijesto. Ostaviti u hladnjaku oko pola sata umotano u foliju. Tanko razvaljati valjkom i obložiti prethodno maslacem namašćenu formu za pečenje tarta. Ja sam koristila pravokutni oblik dimenzija 35*10cm i od ove količine tijesta dobila sam za dvije ovakve forme. Rubove pri vrhu pažljivo oblikovati rukama. Tijesto izbosti vilicom. Na tijesto položiti papir za pečenje te staviti neko opterećenje da se tijesto ne digne prilikom pečenja (ja sam koristila rižu). Peći na 170C 10 minuta. Pažljivo odstraniti papir s rižom i ostaviti tijesto da se ohladi u kalupu.
Fil:
250g ricotta sira
4 jaja
100ml vrhnja za kuhanje
Sol po okusu
Malo sušenih vlakana šafrana (otopiti u malo tople vode) ili šafran u prahu
50g ribanog parmezana
Sve sastojke sjediniti pjenjačom.
Pesto od medvjeđeg luka:
Vezica medvjeđeg luka
2 češnja češnjaka
Šaka indijskih oraha
Po potrebi maslinovo ulje
Sok od pola limete
Sve sastojke usitniti u pesto.
Ostalo:
Rajčice različitih boja i malo smeđeg šećera.
Polupečeno tijesto ostaviti da se ohladi te na dno tijesta staviti tanki sloj pesta od medvjeđeg luka. Na njega staviti fil od riccota sira do ½ visine modle. Potom staviti oko 2 velike žlice pesta i vilicom prošarati kroz riccota fil da pri pečenju nastane lijepa žuto-zelena mustra. Potom staviti gore još jedan tanji sloj fila od riccota sira (oko ½ prsta ispod ruba modle).
Rajčice raznih boja i veličina narezati na tanje kolutove, malo posuti smeđim šećerom, soli i paprom. Poslagati na riccota kremu. Po želji staviti i nekoliko kalamata maslina narezanih na kolutove. Tart peći na 180 C oko 25-35 minuta (ovisi o pećnici).