When I think about making pesto, I see Bella Italia in front of me…and I love Italian food. The best of pesto is that you can make it fast, delicious and you can make hundreds of combination – pasta, gnocchi, risotto, finger food, bread, dip…you name it. Two flavors are most popular – basil pesto and dried tomatoes pesto. I love to add little bit of some new taste, and did use pecorino (sheep) cheese (instead of traditional parmesan cheese) for my rocket pesto – tastes amazing.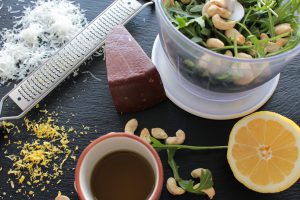 Ingredients:
About 200 g rocket
A handful of cashew nuts
3 cloves of garlic
Zest of 1 lemon
Lemon juice
Pecorino (sheep cheese)
Olive oil
Toast cashew nuts on a frying pan without oil. All ingredients, except olive oil, mix in food processor. Add slowly olive oil and continue to mix it. Season with lemon juice as needed. Put in little jar and store in a fridge.
-Croatian version-
Jedno od onih jela koji se pripremaju brzo i lagano, a mogu se koristiti u nebrojeno kombinacija. Ja ga najčešće jedem uz tjesteninu s ekstra porcijom sira. Osim toga, pesto je izvrstan u rižoti, s njokima, u pecivima i kruhu ili jednostavno kao dip. Dva su se okusa pesta davno ukorijenila u kuhinji – onaj od bosiljka te od sušenih rajčica. Ja se volim poigrati s različitim vrstama sira, pa je tako u ovom receptu umjesto tradicionalnog parmezana, ovčji sir pecorino….kombinacija je odlična 🙂
Potrebno:
Oko 200 g rukole
Šaka indijskih oraha
3 češnja češnjaka
Korica jednog limuna
Sok pola limuna
Pecorino (ovčji) sir
Maslinovo ulje
Indijske orahe prepržite na vrućoj tavi bez ulja. Sve zajedno, osim maslinovog ulja, usitnite u multipraktiku. Njega dodajte tek kada ste već usitnili prethodno navedene sastojke. Naknadno začinite po okusu s limunovim sokom. Čuvati u dobro zatvorenoj teglici u hladnjaku.