Pumpernickel bread is traditional German bread with very dark brown, almost black, with a heavy, coarse, dense texture and almost no crust. The taste is slightly sweet and slightly sour. Bread is made of at least 90 percent rye flour and / or whole grain rye with baking times of at least 16 hours…..you love it or hate it..I am in love with Pumpernickel……Did you try it?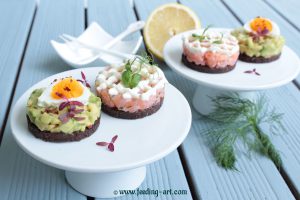 To give a nice, refreshing taste to the little bit earthy taste of bread, I prepared two different toppings:
Avocado tartare: avocado (cut in small cubes), lime juice and zest, chili flakes, honey, salt, quail egg, fresh mint. Mix all ingredients, apart from quail egg, and put on a piece of bread (you can buy already in small circle cut bread or just use small glass to cut circle). Decorate with boiled quail egg and some sprouts.
Salmon tartare: smoked salmon (cut in small cubes), lemon juice and zest, fresh dill, horseradish (in glass) and some cream. Mix all ingredients, apart from horseradish and cream. Put on a piece of bread and decorate with some horseradish and cream. Use some sprouts to bring more color.
-Croatian version-
Pumpernikel je tradicionalni njemački kruh koji volite ili mrzite. Tamno smeđe je do gotovo crne boje, bez korice, narezan na tanke šnite. Teške, pomalo vlažne strukture i slatko-kiselog okusa, od najmanje 90% raženog brašna i 16-satnog pečenja na temperaturi oko 150 C. Može se kupiti već narezan na male kolutove poput ovih koje sam ja koristila ili velike, tanke šnite. Njegov specifičan okus sjajno se slaže s ova dva lagana, zdrava i elegantna tartara…jeste li imali priliku probati ovaj poseban kruh?
Avokado tartar: sitno sjeckani avocado, sok i korica limete, čili pahuljice, med, sol, svježa menta i prepeličje jaje. Sve sastojke, osim jaja, pomiješajte te servirajte na kruh. Koristite malu okruglu modlu da bi lakše servirali ili istu izradite od papira. Servirajte tartar i ukrasite kuhanim prepeličjim jajem i klicama.
Losos tartar: sitno rezani dimljeni losos, sok i korica limuna, svježi kopar, hren i malo vrhnja. Sve (osim hrena i vrhnja) pažljivo promiješati i servirati na pumpernickel kruh. Pomiješati hren (iz teglice) s malo vrhnja i dekorirati losos tartar po želji te ukraiti s klicama po želji.