I love the fresh start of a new year…start with freshly baked sourdough garlic/rosemary durum wheat flour Focaccia…fantastic recipe from Anita Šumer her book "Verrückt nach Sauerteig". The only difference is that I let dough rest the whole night in the fridge (in baking tray) and it is little bit too fat because of my small baking tray. But, I must say the biggest respect for Anita's recipes, it is 4th recipe I baked and all are fantastic…but this Focaccia taste simply heavenly, was eaten by 2 persons in couple of hours.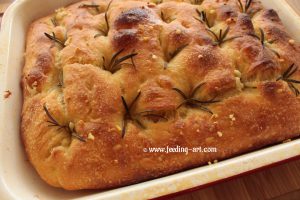 I did not use baking paper, I just put little bit more olive oil to get delicious and crispy bread crust. Cannot wait to bake with olives, tomatoes, onions…and yes, it makes big difference when you bake with domestic, homemade olive oil…luckily I have one from Croatia. Enjoy the view 🙂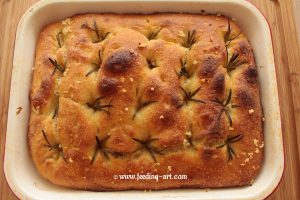 Preferment:
50g mature starter
50g water
50g durum wheat flour
Mix together and rest overnight (or min 8 hours) at the room temperature.
Main dough:
500g durum wheat flour
375g water
Mix it together and rest overnight (or min 8 hours) in the fridge.
10g salt
Others:
Olive oil
Rosemary and garlic
On a second day mix preferment, salt and main dough in homogeneous dough. Rest 15 minutes at the room temperature and knead 2-3 minutes. Repeat the whole process 3 times.
In next 2 hours perform every 20-30 minutes "stretch and fold". After 2 hours rest the dough at the room temperature until volume has doubled.
Oil the baking tray with generous amount of olive oil, lay the dough carefully and make holes with your fingers. Pour about 2 tablespoon olive oil, sprinkle little bit of coarse salt, arrange rosemary in the holes and let it rest at the room temperature until volume has doubled.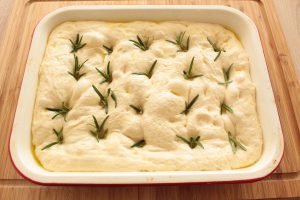 Pre heat the oven at 230 C and bake for about 20-30 minutes.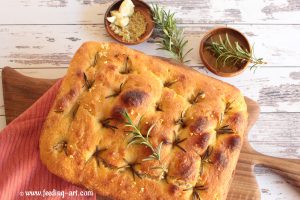 Five minutes before end of baking time smear mixture of olive oil and chopped garlic and bake for 5 more minutes.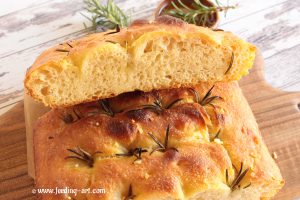 -Croatian version-
Najsvježiji start u novoj godini….Focaccia od durum pšeničnog brašna, domaćeg kvasca sa češnjakom i ružmarinom prema odličnom receptu Anite Šumer iz njezine knjige Kvasomanija. Ovo je već 4 recept koji sam iz te knjige probala i svi su odlični. Ali ova Focaccia ima nebeski okus, ja i sestra pojele smo cijelu u samo par sati. Veliku razliku čini ako koristite pravo, domaće maslinovo ulje. Ja srećom imam dilericu iz Hrvatske, moju Marianu (Vela luka ili Korčula odakle mi dopliva koja boca). Jedina razlika u odnosu na recept je da se moje tijesto odmaralo cijeu noć u hladnjaku (u tepsiji u kojoj sam pekla), a i malo je deblja jer sam imala premalu tepsiju. Nisam koristila papir za pečenje niti sam posipala tepsiju brašnom…samo sam stavila malo više maslinovog ulja i dobila slasnu i hrskavu koricu. Vrijedi svake sekunde čekanja, truda i rada. Repriza uskoro, ali s kalamata maslinama, rajčicama, lukom…..do tada uživajte u pogledu 🙂
Predtijesto:
50g aktivnog startera
50g vode
50g durum pšeničnog brašna
Pomiješati i ostaviti pokriveno tijekom noći na sobnoj temperaturi (ili ca. 8 sati tijekom dana)
Glavno tijesto:
500g durum pšeničnog brašna
375g vode
Pomiješati i ostaviti u hladnjaku tijekom noći (ili min 8 sati)
10g soli
Ostalo:
Maslinovo ulje
Ružmarin i češnjak
Drugi dan pomiješati predtijesto i glavno tijesto, dodati 10g soli i umijesiti homogeno tijesto. Ostaviti 15tak minuta da pokriveno miruje te premijesiti 2-3 minute. Ponoviti postupak 3 puta.
Potom u naredna 2 sata svakih 20-30 minuta napravite "stretch and fold" po vlastitoj želji (u zdjeli, rotirajući je ili na stolu tako da stol malo navlažite vodom, prebacite tijesto, napravite "stretch and fold" i vratite tijesto da ponovo miruje). Nakon 2 sata ostaviti tijesto da pokriveno miruje dok se volumen ne udvostruči.
Tepsiju za pečenje focaccie nauljiti maslinovim uljem, položiti pažljivo tijesto i prstima napraviti udubine. Preliti s oko 2 jušne žlice maslinovog ulja, posuti malo grubo mljevene soli, rasporediti ružmarin po udubinama te pokriveno ostaviti da se diže dok se volumen ne udvostruči. Potom staviti peći u prethodno zagrijanu pećnicu (230 C) 25-30 minuta. Pet minuta prije kraja premazati focaccu s mješavinom sitno rezanog češnjaka i maslinovog ulja te još 5 minuta peći.