The most simpliest delicacy of italian cuisine, but yet almost the hardest to make just the way it should be…Risotto. In my recipe I played with spices and tastes. I love it fresh, light, creamy and not too many ingredients. The most interesting taste I got by using Lemoncello instead of wine, I can only recommend! Lemoncello enhances freshness of risotto and together with lemon juice and zest, zucchini, rosemary, bay leaf and saffron make perfect mediterranean dish.
Ingredients:
300g risotto rice
½ of zucchini
100 ml Limoncello
½ of onion
1 cloves of garlic
2 bay leaves, rosemary, nutmeg, salt, pepper
Lemon juice and zest
Vegetables stock
Saffron (soak 1 small spoon of saffron threads in little bit of warm water 30 minutes)
Olive oil
Butter
Gruyѐre cheese
Chives and Saffron threads for decoration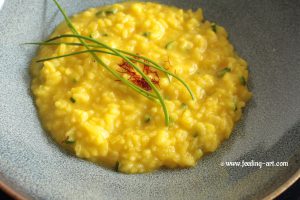 Preheat olive oil and sauté onion and garlic. Add rice and stir well, sauté shortly. Pour Limoncello and cook while stirring until the liquid is fully absorbed. Add little bit of vegetable, water from saffron, bay leaves and rosemary and stir until the liquid is fully absorbed. When rice appears almost dry, add little bit of vegetables stock again and repeat the process. Continue adding stock and repeat the whole process until rice is cooked, tender but still little bit firm to the bite (not crunchy). Season to taste with salt, pepper, nutmeg, lemon juice and zest.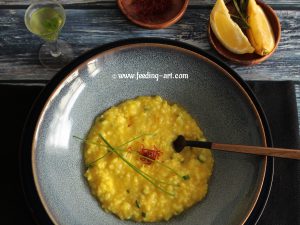 Turn off the heat and add 10g of cold butter and finely grated cheese.
-Croatian version-
Izgledom najjednostavnije talijansko jelo, a u izvedbi još uvijek pravi izazov napraviti ga baš kako treba…Rižoto. Ja sam se u svom receptu poigrala novim okusom dodavši Lemoncello umjesto vina…za preporučiti! Volim jednostavna rižota bez puno sastojaka, a Limoncello je upravo naglasio tu mediteransku, svježu, jednostavnu notu uz svježe začine, šafran, zelenu tikvicu, koricu i sok limuna
Sastojci:
300g riže za rižoto
100 ml Limoncello
½ zelene tikvice
½ crvenog luka
1 češanj češnjaka
2 lovorova lista, malo svježeg ružmarina, muškatni orah, sol, papar
Sok i korica limuna
Povrtni temeljac
Šafran (namočiti 1 malu žlicu vlakna u malo tople vode 30 minuta, procijediti i vodu koristiti za rižoto)
Malo maslinovog ulja za dinstanje
10g maslaca
Gruyѐre sir (ili neki drugi tvrdi tipa parmezana i sl)
Za dekoraciju možete koristiti malo vlakana od šafrana i vlasac.
Na zagrijanom maslinovom ulju dinstati luk i češnjak. Dodati rižu i kratko dinstati. Podliti s limoncellom i kuhati dok tekućina u potpunosti ne ispari. Dodati malo toploga temeljca i vodu od šafrana, lovorov list i ružmarin te uz miješanje kuhati dok tekućina ne ispari. Šponoviti postupak s temeljcem dok se riža ne skuha. Paziti da se riža ne prekuha, trebala bi ostati "al dente". Začiniti po okusu sa soli, paprom, muškatnim orahom, sokom i koricom limuna.
Maknuti rižoto s izvora topline i umiješati maslac i ribani sir.