Sometimes is so simple to make vegan dish, just like this tasty and delicious green pea soup. Enriched with ginger, mint and basil , spiced up with chili salt. Little bit of sourness from Granny Smith apple and lime juice. And the best of all is that for perfect soup density you do not need butter or cooking cream. For a perfect last touch, dip some toasted baguette slices, springle pine nuts and chili salt. Delicious 🙂
Ingredients:
Green pea (fresh or frozen)
1 green apple (little bit sour) cut in cubes
2 lemongrass sticks
1 small piece of ginger, chopped
2 cloves of garlic, chopped
Little bit of olive oil
1 shallot, finely chopped
2 young onion (white and green part) cut in rings
Salt, pepper and nutmeg
Mint and basil
Water
1 lime (juice and zest)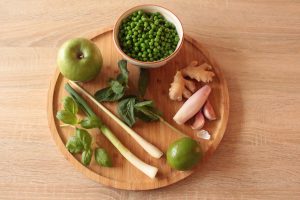 Preheat olive oil and sauté shallot, ginger, garlic, young onion, apple and after few minutes add green peas. Pour some water and cook until vegetables soften. Season with salt, pepper, nutmeg, lime juice and zest. Put in mixer, add mint and basil and mix it to the desired density. If needed, add some water in which vegetables were cooked. Season to taste.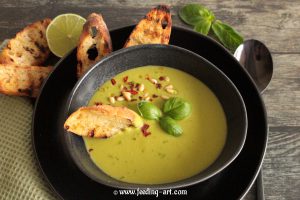 Serve with toasted pine nuts and toasted bread.
-Croatian version-
Iako su mi se pojmovi veganske hrane vezali za neka komplicirana jela i skupe sastojke, nije to baš uvijek tako. Ova osvježavajuća juha od graška kojom prizivam proljeće (pa je danas i zasjalo na +14) pravo je vegansko gastro iznenađenje za moje nepce. Obogaćena đumbirom, mentom i bosiljkom uz reski okus jabuke Granny Smith i malo svježine od soka i korice limete. A najbolje od svega je što vam ne treba ni maslac ni vrhnje za kuhanje da bi postigli željenu gustoću. Za posljednji 'touch" predlažem prepržene šnjite baguetta, tostirane pinjole i krupnu sol sa čilijem
Sastojci:
Grašak (svježi ili smrznuti)
1 zelena jabuka (blago kiselu) narezana na kockice
2 štapića limunske trave
Komadić đumbira, sitno nasjeckan
2 češnja češnjaka, sitno nasjeckana
Malo maslinovog ulja
1 ljutika, sitno nasjeckana
2 mlada luka (bijeli i zeleni dio) narezani na kolutove
Sol, papar i muškatni orah
Svježa menta i bosiljak
Voda
1 limeta (sok i korica)
Na malo maslinovog ulja prodinstati ljutiku, đumbir, češnjak, mladi luk i jabuku te nakon par minuta dodati grašak. Uliti vode da prekrije i kuhati dok povrće ne omekani. Začiniti sa soli, paprom i muškatnim orahom, sokom i koricom limete. Dodati mentu i bosiljak te u blenderu izmiksati sve sastojke do željene gustoće (po potrebi dodati vode u kojoj se kuhala juha).
Servirati uz tostirane pinjole, preprženi kruh.