Traditional french onion soup is one of my favorite because I am big fan of onion and cheese. My first soup recipe at www.feeding-art is Onion soup (recipe name is Do you eat French?), made slowly, with wine, thyme, butter, bay leaf, flour….. But today's Onion soup is fast&furious version, for all who have not so much time to cook. Chicken (vegetables) stock, lots of onion, favorite hard cheese, toasted bread and Voilà! Here is my way to gastro journey to Paris!
Ingredients:
Chicken stock (or vegetable)
Onion
Little bit of sugar, salt and pepper
Butter and olive oil to sauté onion
Gruyere cheese (or other hard cheese)
Few slices of bread
Thyme (finely chopped)
Cut onion in stripes and sauté on olive oil and butter. Heat the chicken stock. Grate the cheese. Coat slices of bread with some olive oil and toast on a hot frying pan.
Take a small bowl resistant to heat. Pour some chicken stock and at the top of it few slices of toasted bread. Sprinkle generously with grated cheese, and if you like little bit of thyme. Bake in oven until cheese melt and get some color (180C, only heat from above). Serve immediately. With some toasted bread.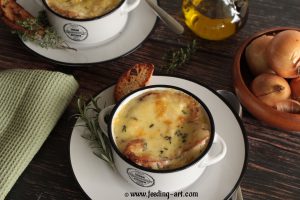 -Croatian version-
Kao o…božavateljici luka i sira, tradicionalna francuska juha od luka jedna je od meni najdražih. Tako je i prvi recept za juhe na blogu upravo juha od luka (pod nazivom "Može na francuski?")..tada kuhana polako, s vinom, maslacem, brašnom i kako to već ide. Današnji recept je za sve one ljubitelje koji imaju manje vremena, a požele uživati u ovom divnom spoju romantike, otopljenog sira, nestvarne količine luka i hrskavog kruha u domaćem temeljcu! U samo 25 sekundi uronite u gastro putovanje !
Potrebno:
Pileći temeljac (ili povrtni)
Crveni luk
Malo šećera, soli i papra
Malo maslaca i maslinovog ulja za dinstanje luka
Gruyere sir (ili neki drugi tvrdi)
Par šnjita kruha
Sitno sjeckani timijan
Pileći temeljac ugrijati. Na zagrijanom maslacu i maslinovom ulju dinstati crveni luk narezan na rezance. Sir krupno naribati. Šnjite kruha premazati maslinovim uljem i tostirati na vrućoj tavi.
U vatrostalnu malu zdjelu staviti topli temeljac, a na samu površinu tostirani kruh. Kruh obilno posuti ribanim sirom i po želji staviti malo sitno sjeckanog timijana. Zapeći u pećnici na 180 C (samo gornji grijači). Poslužiti odmah. Servirati uz tostirani kruh.