Even I am addicted to bread, burek, stews and international cooked meals, in summer I am more occupied with salads. And I really love them. Unfortunatelly, I do not eat enough of rocket, because it is hard to find young rocket without so much bitterness. But if you are lucky enough to finde young rocket like me today, make this simple and delicious salad. You will spent little bit more time by frying chickpeas, but it is worth every second. I would recommend to marinate feta cubes in olive oil and fresh herbs (garlic as well if you like) before. Instead of tomatoe cubes, you can use mini tomatoes, fresh or slightly dried.
Ingredients:
Rocket
Feta cheese, cut in cubes and marinated with parsley and olive oil
Young onion, sliced
Tomatoes, without seeds, cut in cubes
Shallot, sliced
Olive oil
Lemon juice and zest
Salt and pepper
Parsley and chives, finely chopped
Mix all ingredients and season to taste with salt, pepper, olive oil and lemon zest and juice. At the end, add crunchy chickpeas.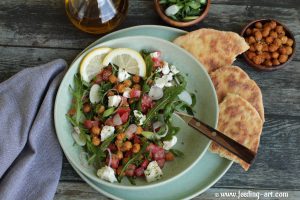 For crunchy chickpeas:
Chickpeas
Curcuma
Smoked pepper powder
Chili flakes
Sesame
Olive oil
Drain chickpeas, rinse well and dry with kitchen paper towel. Sprinkle with curcuma, smoked red pepper and chili flakes. Heat up little bit of olive oil in frying pan and fry chickpeas until crispy. Few minutes before chickpeas is finished, add some sesame and fry shortly.
You can bake chickpeas in oven instead of in frying pan.
Serve with pita or naan bread.
Pita bread: http://feeding-art.com/2019/09/07/pita-bread-with-cheesepita-bread-sa-sirom/
Naan: http://feeding-art.com/2019/07/13/naan-with-chickpeas-currynaan-i-curry-od-slanutka/
-Croatian version-
Čak i mene, koja sam ovisna o kruhu, bureku, konkretnim jelima na žlicu, zaokupljaju salate u toplijim danima. I zaista ih volim. Na žalost ne jedem rukolu tako često jer je uglavnom gorka, ali ako imate sreće naći finu, mladu rukolu koja nije gorka (kao ja ovaj put), napravite ovu jednostavnu i zaista prefinu salatu. Najduže traje priprema i prženje slanutka da bi bio neodoljivo hrskav, ali vrijedan je svake sekunde. Feta kockice obavezno marinirajte prije u maslinovom ulju i začinima po želji, a umjesto kockica rajčice možete koristiti mini rajčice, svježe ili kratko sušene u pećnici.
Sastojci:
Rukola
Feta sir narezan na kocke i mariniran s peršinom i maslinovim uljem
Mladi luk, narezan na tanke kolutove
Rajčice očišćene od sjemenki i narezane na kockice
Ljutika narezana na kolutove
Maslinovo ulje
Limunov sok i korica
Sol i papar
Sitno rezani peršin i vlasac
Sve sastojke pomiješati u jednoj većoj zdjeli i začiniti po okusu sa soli, paprom, maslinovim uljem i limunovim sokom. Dodati na kraju hrskavi slanutak.
Za hrskavi slanutak:
Slanutak
Kurkuma
Dimljena paprika u prahu
Čili pahuljice
Sezam
Malo maslinovog ulja
Slanutak ocijediti, dobro oprati i posušiti kuhinjskim papirom. Začiniti s kurkumom, dimljenom crvenom paprikom u prahu i čili pahuljicama. Zagrijati malo maslinovog ulja u tavi i prepržiti začinjeni slanutak dok ne bude hrskav. Pred kraj dodati sezam i kratko pržiti.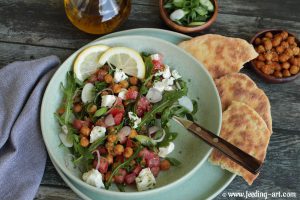 Slanutak možete pržiti i u pećnici umjesto u tavi.
Salatu servirati uz pita lepinjice ili naan.