It's amazing how delicate, elegant and silky beetroots can be if you just have one sharp knife at home. Your, maybe not the best friend on the plate, but extremely healthy super food, will be more often on your menu 😊. Instead of making classic vinaigrette, make it more challenging by giving this carpaccio sourness of citrus fruits, sprinkle some best homemade olive oil and do not forget to pimp up with a lot of mega healthy, super food called micro greens.
Beetroot, cooked, thinly sliced
Grapefruit
Lime
Orange
Mini mozzarella
Olive oil
Pine nuts
Red pepper
Different microgreens for decoration
Cut Beetroot in thin slices and arrange on the plate.
With a sharp knife, cut off peel and white pith from grapefruit, lime and orange. Cut fruits and mini mozzarella into thin slices and arrange over beetroot. Toast some pine nuts and sprinkle all over. Pour little bit of olive oil and decorate with different cress and red pepper.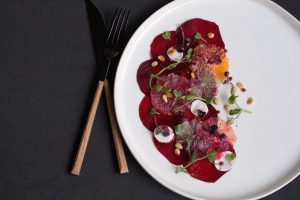 -Croatian version-
Zadivljujuće je kako cikla može izgledati elegantno, nježno i gotovo svilenkasto uz pomoć samo jednog oštrog noža. Uz pomoć noža i malo strpljenja, sigurna sam da će se cikla, inače izuzetno zdrava, super namirnica i češće naći na vašem stolu. Umjesto klasičnog vinaigrette, iznenadite svoje nepce s ploškama citrusa koji će carpaccio od cikle dati jednu novu dimenziju okusa. Svakako se pobrinite za visoko kvalitetno domaće maslinovo ulje, ali i za najzdravije saveznike svake salate – mikro bilje.
Cikla, kuhana, tanko narezana
Grejp
Naranča
Limeta
Mini mozzarella
Maslinovo ulje
Pinjoli
Crveni papar
Mikro bilje za dekoraciju
Rasporediti ciklu na tanjur. S oštrim nožem odrezati koru i bijelu ovojnicu na grejpu, naranči i limeti. Narezati citruse i mozzarellu na tanke ploške i poslagati na ciklu. Tostirati pinjole te ih rasporediti po carpaccio, posuti s malo maslinova ulja. Dekorirati s crvenim paprom i mikrobiljem.