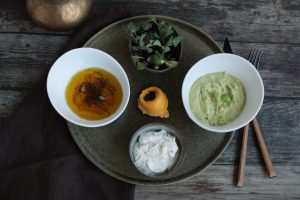 Tortellini:
200g flour
Ca 110g baked and mashed Hokkaido
1 egg
1 tsp salt
More flour if needed
Mix all ingredients and knead smooth dough (ca10 minutes). If needed, add some more flour. Wrap in cling film and rest at least 1 hour or overnight.
Dust pasta maker and working surface with some flour, roll the dough thinly into pasta layer and cut in squares. Place ½ tsp of ricotta filling in the centre of the squares, spray the edges with water and form tortellini.
Filling for tortellini:
250g ricotta cheese
Fresh herbs (rosemary, lemon thyme, parsley, parsley, marjoram), finely chopped
Salt and pepper
Mix all together.
Edamame cream:
300g Edamame
Water as needed
Little bit of fresh ginger, finely chopped
Salt and pepper
Cinnamon stick
20g butter
2 tbsp of yoghurt
1 shallot
Lemon juice as needed
Cut shallot and sauté on little bit of olive oil. Add ginger, cinnamon, edamame, water just enough to cover and cook until soft. Take cinnamon stick out. Season with lemon, salt and pepper. Blend it in blender and sieve. Add yoghurt and butter, heat up to incorporate all ingredients into smooth cream. Season to taste.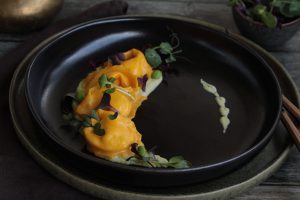 Flavored brown butter:
150g butter
3-4 twigs of olive herb
Zest of ½ lemon
Heat up butter slowly at the medium heat and melt until butter get nice brown color and nutty smell and taste. Strain through cheesecloth or cafe filter paper. In still hot butter put olive herb and lemon zest and marinate for 24 hours.
And to serve:
Place 1 tbsp of edamame cream on the plate and form, with the help of spoon, half moon. At the top of it put 4-5 tortellini. Pour some aromatic butter and decorate with micro greens.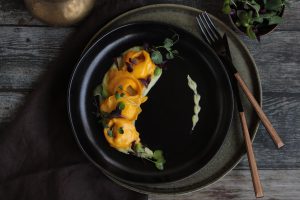 -Croatian version-
Tortellini:
200g brašna
Ca 110g pečene i purirane hokkaido tikve
1 jaje
1 mala žlica soli
Po potrebi još malo brašna
Umijesiti sve sastojke, po potrebi dodati još malo brašna da dobijete glatko tijesto. Mijesiti ca 10-tak minuta. Umotati u prozirnu foliju i ostaviti da miruje sat vremena, a možte ostaviti i u hladnjaku tijekom cijele noći.
Mašinu i radnu površinu posuti brašnom, tijesto tanko razvaljati i izrezati kvadrate (moji su dimenzija ). U sredinu staviti ½ žličice ricotta fila, rubove tijesta premazati vodom i formirati tortelline.
Punjenje za Tortelline:
250g ricotta sira
Svježi začini po želji (ružmarin, timijan s okusom limuna, peršin, majoran), sitno nasjeckati
Sol i papar
Sve zajedno dobro sjediniti i puniti tortelline.
Edamame krema:
300g edamame
Malo vode
Malo svježeg đumbira
Sol i papar
Štapić cimeta
20g maslaca
2 žlice jogurta
1 ljutika
Malo limunovog soka
Ljutiku sitno narezati i na malo maslinova ulja prodinstati. Dodati đumbir, cimet, edamame, vode da prekrije edamame te kuhati kratko dok ne omekani. Izvaditi štapić cimeta. Dodati sok limuna, sol, papar. Pirirati i protisnuti kroz sito. Dodati jogurt i maslac te zagrijati da se dobro sjedini. Po potrebi začiniti.
Aromatizirani smeđi maslac:
150g maslaca
3-4 grančice maslinove trave
Kora pola limuna
Maslac polako zagrijavati na nižoj temperaturi dok ne postigne lagano smeđu boju i orašasti miris, paziti da ne zagori. Procijediti kroz gazu, tkaninu za pasiranje ili filter papir za kavu. U još vruće staviti maslinovu travu i koru limuna da se marinira 24 sata.
Serviranje:
Na tanjur stavite jednu jušnu žlucu edamame krene te sa žlicom kreirajte polumjesec razmazujući kremu po tanjuru. Po kremi servirajte 4-5 tortrlina, prelijte aromatiziranim maslacem i sve dekorirajte s mikro biljem.