Homemade donuts are incredibly soft, dick, fluffy and melt in your mouth with irresistible smell of vanilla, lemon and strawberry jam. And they taste the best in the most donutlicious month – February!
Just a few tips are going to make your homemade donuts sensational!
Make sure your frying oil reach 170 C (if oil is too hot, donuts will be dark and raw; but if oil is not hot enough, donuts turn out very oily and chewy)
Knead dough very well, should be smooth, not too soft and not very sticky. Allow to rise at room temperature, avoiding direct heat from oven by open door. Make sure it doubled in volume.
When you form balls, make it gently, do not squeeze do dough too much (see video).
On the working surface use as little flour as possible.
Always fry donuts so to put the top of the dough in hot oil first.
Ingredients:
1 cube of fresh yeast
60g sugar
1 pack of vanilla sugar
500g all purpose flour
210ml lukewarm milk
4 egg yolk
60g softened butter
A pinch of salt
Finely grated rind of 1 Bio lemon
2 tbsp rum
1/3 tsp vanilla powder
Others:
1 l oil (for frying)
Jam, Nutella, powdered sugar
Method:
Mix the yeast with little bit of the sugar (from 60g), 2 tbsp of flour (from 500g) and 100ml of the warm milk. Place in a warm place to rest for 15 minutes, or until frothy.
Sift the flour into a large bowl, add salt, rest of sugar, lemon rind, vanilla powder and vanilla sugar (dry mix). In a second bowl mix egg yolks, rum and rest of milk (wet mix).
Make a well in the flour and pour in the yeast mix, butter and wet mix. Mix using the lower speed at first, then finish using higher speed for 3-5minutes until you get smooth and not too soft and not to sticky dough. You can knead with hand too. Cover the bowl and leave to stand for 30-45 minutes, or until the dough has doubled in size in a warm place (23-25C).
On a work surface then divide into 60 pieces and form balls. Place them on a lightly floured cling film or working surface, gently press them down, cover with cling film and place in a warm place for 30-45 minutes, or until they have doubled in size (see video).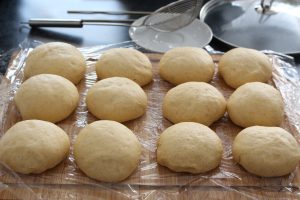 Heat the oil in a deep pan until it reaches 170C (check with a thermometer or use the handle of a wooden spoon or a wooden chopstick – when the oil has preheated, dip the handle of a wooden spoon or a chopstick into the oil. If the oil starts steadily bubbling, then the oil is hot enough for frying. If the oil bubbles very vigorously, then the oil is too hot and needs to cool off).
Gently lower the dough balls one at a time into the hot oil (first upper side of the dough in oil), in batches of three or four (depends how big is your frying pan), put the lid on and fry for 1,5-2 minutes or until golden-brown. Carefully turn over and fry without lid for 1,5-2 minutes (or until golden brown), depends on oil temperature. Remove from the hot oil with a slotted spoon and drain on kitchen paper.
Allow donuts to cool down, fill with jam, nutella or any other filling you like. Sprinkle some powdered sugar.
-Croatian version-
Domaće krafne su čarobno mekane, debele, pahuljaste, tope se u ustima ostavljajući neodoljivi trag vanilije, limuna i marmelade od jagode. I najbolje pašu u veljači, najkrafnastijem mjescu u godini.
Nekoliko je bitnih pravila kako da krafne svaki puta ispadnu senzacionalno!
Vodite računa da je ulje zagrijano na idealnih 170 C (ako je ulje jako vruće, krafne će brzo potamniti, a iznutra ostati sirove; ukoliko ulje nije dovoljno zagrijano, krafne će upiti previše ulja, izgubiti na volumenu, biti masne i žilave)
Dobro umijesite tijesto. Bilo da mijesite mikserom ili rukom, krajnji rezultat treba biti mekano, glatko, ali ne ljepljivo tijesto. Prostorija u kojoj tijesto odmara treba biti topla, ali izbjegavajte ostavljanje tijesta direktno kod otvorenih vrata zagrijane pećnice. Bitno je da se tijesto svaku pita udvostruči u volumenu.
Kada formirate loptice od tijesta, radite to nježno. Nemojte tijesto jako stiskati (pogledajte video).
Dok formirate krafne na radnoj površini, koristite što manje brašna. Previše brašna onemogućava formiranje lijepih i pravilnih krafni.
Krafne pecite tako da prvo u ulje stavite gornju stranu formiranih krafni.
Sastojci:
1 kocka svježeg kvasca
60g šećera
1 vanilin šećer
500g glatkog brašna
210ml mlakog mlijeka
4 žumanjka
60g omekšalog maslaca
Prstohvat soli
Fino naribana korica 1 Bio limuna
2 jušne žlice ruma
1/3 kavene žlice vanilije u prahu
Ostalo:
1 l ulja za pečenje krafni
Marmelada, nutella, šećer u prahu
Pomiješati 100ml mlakog mlijeka s kvascem, malo šećera (od onih 60g uzeti) i 2 jušne žlice brašna te ostaviti da se diže.
U međuvremenu pomiješati brašno, ostatak šećera, vanilin šećer, vaniliju u prahu, koricu limuna i sol (suhi sastojci). U drugoj posudi pomiješati pjenjačom žumanjke, ostatak mlijeka i rum (vlažni sastojci). Spojiti suhe i vlažne sastojke, dodati maslac i nadošli kvasac. Mikserom miješati prvo na najnižoj brzini, potom pojačati do 3 brzine. Ukupno oko 7-10 minuta dok ne dobijete glatko i mekano tijesto, ali ne jako ljepljivo. Po potrebi možete još malo rukom premijesiti.
Prekriti i ostaviti na toplome (23-25C) da se diže 30-45 minuta odnosno dok se tijesto ne udvostruči u volumenu. Prebaciti na radnu površinu i formirati 60g kugle. Posložiti ih na blago pobrašnjenu prijanjajuću foliju ili radnu površinu, lagano stisnuti dlanom, prekriti prijanjajućom folijom i ostaviti na toplome da se udvostruče.
Zagrijati ulje na 170 C (provjeriti termometrom ili drškom drvene kuhače). Pažljivo stavljati krafne u ulje tako da gornja strana ide prva u ulje. Poklopiti i peći 1,5 do 2 minute (ovisi o temperaturi ulja) dok ne dobiju lijepu boju. Otklopiti te okrenuti krafne i nastaviti peći bez poklopca 1,5 do 2 minute.
Svježe pečene krafne ostaviti na kuhinjskom papiru da upiju masnoću. Kada se ohlade puniti marmeladom, nutelom ili nekim drugim punjenjem po želji. Prije serviranja posuti šećerom u prahu.