One of favorite dish in spanish cuisine, cold summer soup – Gazpacho, did find a place in our kitchen. It is light, refreshing, healthy…you can drink it or simply eat it with a spoon. We have enriched the soup with kalamata olives and spiced up with cayenne pepper. With Gazpacho is perfect to serve some shortly grilled bread slices with some garlic, or just juse italian classic – grisini. The best part is that you do not need even a spoon to eat it…simply pour it in a glas and drink it. Cheers!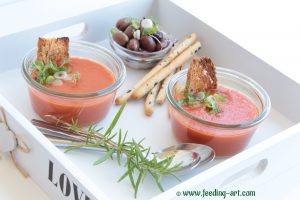 2 red peppers
6 tomatoes
10 kalamata olives without
2 cloves of garlic
2 young green onions (just white part)
8 leaves of basil
Lemon juice as needed
Salt, pepper, cayenne pepper, honey as needed
1 tea spoon olive oil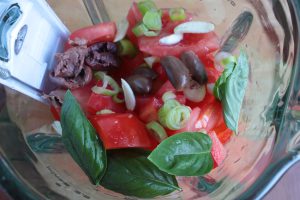 Clean pepper from seeds and cut in smaller pieces. Cut tomatoes in 4 pieces and remove seeds and skin. Wash Young green onion thoroughly and cut in rings. Put all ingredients in mixer and mix it in smooth mixture. If it is too thick you can add little bit of water. Season as needed. Strain and serve with bread chips and grissini.
-Croatian version-
Jedno od omiljenih ljetnih jela španjolske kuhinje došlo je i na naš stol. Hladna juha koju smo obogatili okusom kalamata maslina i blagu ljutinu dali dodatkom kajenske paparike. Sjajno se slaže s čipsom od kruha ili jednostavno preprženim šnjitama kruha na gril tavi i premazanim češnjakom. Neće škoditi ukoliko se nađe i koji talijanski klasik, dobro znani grisini..pa još začinjeni ružmarinom i timijanom…dobar tek 🙂
2 crvene paprike
6 rajčica
10 kalamata maslina bez koštica
2 češnja češnjaka
2 mlada luka (samo bijeli dio)
8 listova bosiljka
Limunov sok po okusu
Sol, papar, kajenski papar, med po okusu
1 kavena žlica maslinovog ulja
Papriku očistiti od sjemenki i narezati na kocke. Rajčicu narezati na ¼ te oštrim nožem odvojiti meso od kože i sjemenki. Mladi luk narezati na kolutove. Sve sastojke staviti u mikser i smiksati u kompaktnu smjesu. Ako vam je pregusto, možete razrijediti s malo vode. Po potrebi začinite. Propasirati kroz cjediljku i servirati uz čips od kruha i grisine.