For 4 persons:
400g couscous
400ml vegetable stock (or water)
1 yellow pepper
1 cucumber
4 tomatoes
A handful of black olives
Parsley
Juice and zest from 1 lemon
Salt and pepper as needed
1 soup spoon of olive oil
400 g codfish
Rosemary, cherry tomatoes and 1 lime
Mix couscous with hot vegetable stock and stir occasionally with fork. Cut pepper in small cubes as well as tomatoes (without seeds and meat). Use tea spoon to discard seeds from cucumber, cut it in small cubes. Cut olives in rings. Squeeze lemon juice and grate lemon zest. Chop parsley, finely.
Mix vegetables, spices and couscous together. Add olive oil and season to taste with salt and pepper.
Dry the codfish with paper, season with salt and little bit of lime juice. Fry shortly in a pan with fresh rosemary, lime and cherry tomatoes.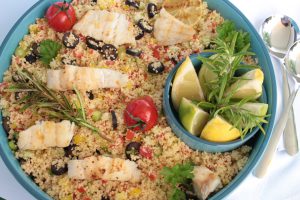 -Croatian version-
Za 4 osobe:
400g cous cous
400ml povrtnog temeljca (ili vode)
1 žuta paprika
1 svježi krastavac
4 rajčice
Šaka crnih maslina
Svježi peršin
Sok i korica jednog limuna
Sol i papar po okusu
Malo maslinovog ulja
400 g bakalara svježeg
Grančice ružmarina i mini rajčice za pečenje ribe, 1 limeta
Cous cous pomiješati s vrućim temeljcem i vilicom pažljivo povremeno miješati. U međuvremenu papriku narezati na sitne kocke. Rajčicu narezati na ¼ i odstraniti meso i koštice te narezati na sitne kockice. Krastavac po želji oguliti, žlicom odstraniti koštice i narezati na sitne kockice. Iscijediti limun, a koricu naribati. Peršin sitno narezati. Masline narezati na deblje krugove.
Povrće i začine pomiješati sa cous cous-om i po potrebi začiniti sa soli i paprom.
Bakalar posušiti papirom, posuti sa soli i malo limunovog soka. Kratko pržiti na grill tavi uz dodatak grančice ružmarina, ploški limete i mini rajčica.