I am pretty sure that I can live eating only bred..so much I love it. I grew up with simple white bread from our local bakery in Croatia and now bake my own.. mainly with my two starters Franz and Rocky. Living in Germany for the last 6 years, I totally fell in love with dark, strong, rye breads. Did you know that Germany has about 300 different sorts of bread? This one is very simple, inspired by recipe from Emmanuel Hadjiandreou. Made with rye flour starter, whole grain rye flour, dark bier, walnuts and caraway. With crunchy crust and slightly moist inside part it is delicacy to be eaten on its own. But for me, it works fantastic with few slices of cheese and little bit of plum jam.
Poolish:
100g rye flour starter
150g whole grain rye flour
200ml cold water
Mix all ingredients with a wooden spoon and leave to ferment overnight.
Bread dough:
200g whole grain rye flour
10g salt
180g dark beer, just boiled
1 tbsp of ground caraway
2 handful of walnuts, toasted, rough chopped
Whole oat grain
2 tbsp of honey
Preparation:
Mix the flour, caraway, walnuts and salt together. This is dry mixture. Disolve honey in hot beer. Mix dry and wet mixture with poolish using wooden spoon.
Grase a pan (25cm*11cm, height 7,5cm), pour some whole oat grain and rye flour. Put the mixture into the pan and shape with fingers using some beer if mixture is too sticky. Sprinkle with some rye flour, cover with a shower cap and allow to rise in a warm place (2-3 hours).
Preheat the oven (240 ⁰C). Remove the shower cap, sprinkle some rye flour over rised bread and slash the loaf if you like. Bake for 40-45 minutes. After 40 minutes tap the loaf on the bottom. If you hear a hollow sound, it is baked.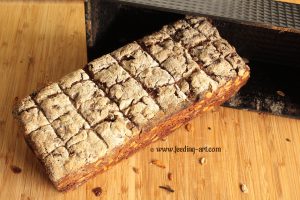 Allow it to cool on a wire rack.
-Croatian version-
Ako bih morala izabrati jednu namirnicu s kojom bi živjela do kraja života, bio bi to kruh. Odrasla sam na mekanom, bijelom iz lokalne pekarnice u Slavoniji, a danas pečem svoj uz svoja dva domaća kvasca. U zadnjih 6 godina zaljubila sam se u tamne, aromatične i ponekad vrlo intenzivnog okusa ražene kruhove. Jeste li znali da u Njemačkoj postoji oko 300 vrsta kruha? Ovaj moj je negdje između, inspiriran receptom od Emmanuel Hadjiandreou. Od punozrnog raženog brašna, tamnog piva, kima, oraha i domaćeg kvasca. Dovoljno osebujan da se jede bez dodataka. Iako je meni savršena kombinacija s tankim listićima Emmentaler sira i pekmeza od šljiva
Predtijesto:
100g startera od raženog brašna
150g punozrnog raženog brašna
200ml hladne vode
Pomiješati sve sastojke i ostaviti tijekom noći na toplome mjestu pokruveno kapom za tuširanje ili prianjajućom folijom.
Tijesto za kruh:
200g punozrnog raženog brašna
10g soli
180g crnog piva, vrućeg
1 čajna žlica mljevenog kima
2 šake oraha, grubo narezanih i preprženih
Punozrne zobi za zobenu kašu
2 kavene žlice meda
Priprema:
Pomiješajte brašno, sol, orahe i kim. To je suha masa. Otopite med u vrućem pivu. Pomiješajte suhu i vlažnu smjesu s predtijestom koristeći drvenu kuhaču.
Lagano namažite uljem kalup za pečenje (25cm*11cm, visina 7,5cm), pospite sve stijenke kalupa sa zobi i raženim punozrnim brašnom. Kuhačom prebacite smjesu u kalup za pečenje te rukama poravnajte (ako se jako lijepi, namočite prste u pivo i izravnajte smjesu). Pospite s malo brašna, pokrijte s kapom za tuširanje i ostavite na toplome mjestu da se udvostruči u volumenu (2-3 sata).
Zagrijte pećnicu na 240 ⁰C. Pospite ponovo malo brašna preko kruha, žiletom zarežite po želji. Peći 40-45 minuta, po potrebi smanjiti temperaturu na 220 nakon pola sata (ako je kruh jako taman). Kruh je pečen kada kucanjem po donjoj površini čujete šupalj zvuk.
Ostavite da se dobro ohladi prije rezanja.