Ramen is my favorite Japanese dish and every time I visit Japanese restaurant I order Ramen and gyoze. I was thinking for a long time to make homemade ramen, but with two own wishes. First – homemade, pure, strong taste stock with only soya sauce or Miso paste for ramen soup. And second and the most important making homemade ramen noodles that really look and tastes like ramen noodles. For the soup it was not a problem at all. But for original ramen noodles, I needed some researches. In this recipe I am bringing to you perfect ramen noodles which you can use in any wok dish with your favorite sauce or just sesame oil.
Well, what is the secret? In soda bicarbonate that you are supposed to bake about one and a half hour at 150 C to turn into soda carbonate. It is not going to change color, but it will make heavenly noodles! Ratio of water and flour is perfect. You just need little bit of passion and about 45 minutes to get smooth, silky, curly, elastic noodles. Perfect ramen noodles!
Use any vegetables you like. For ramen soup, you can use sautéed (on sesame or any other oil) or blanched vegetables. You can use any kind of meat if you like, shrimps or any sea food. At the end, just arrange the whole ingredients in the bowl. Enjoy you ramen!
Ramen noodles:
1 ½ tsp sodium carbonate (you can easily make it by drying (baking) sodium bicarbonate at 150 C for about one/one and a half hours)
240g flour (I used wheat flour 550)
120ml lukewarm water
1 ½ tsp of salt
In lukewarm water dissolve salt and dried sodium carbonate, than knead dough. At the beginning the dough will be little bit dry and hart, but do not add any more water. Continue to knead the dough and with the help of noodle maker.
Set rollers of pasta machine at widest setting (position 1). Feed unwrapped dough piece through flat rollers by turning handle. Dough may crumble slightly at first but will hold together after two to three rolling.
Lightly flour dough strip; fold strip into thirds. Feed through rollers again. Continue process 4 to 6 times until dough is smooth and elastic. Roll out dough with machine. Reduce setting to position 3. Feed dough strip through rollers. Without folding strip into thirds, repeat on positions 4, 5, 6 and finally 7.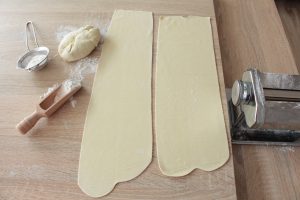 If needed, sprinkle some rice flour. At the end, attach desired shape and size of pasta roller and feed dough through, catching finished pasta with free hand as it emerges.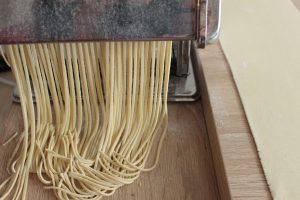 Sprinkle with some rice flour and cover with see through foil before cooking (to avoid drying).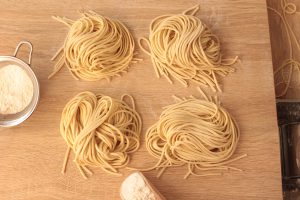 Cook fresh noodles in salty boiled water ca 30 sec. and rinse with cold water.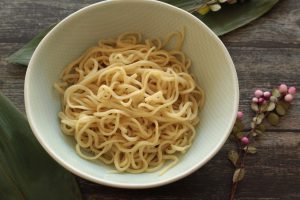 If noodles stick too much while staying without soup outside, just rinse with cold water and it will be fresh as new.
Ramen soup:
Chicken stock for ramen:
4-5 chicken wings (or other parts)
1 big onion
3 cloves of garlic
Little bit of cabbage
½ of leek (white part)
1 parsley root
2 carrots
3 Bay leafs
Peppercorns
Water
Salt
Cut onion in ¼ and leek in ½ and roast it on a electric hot plate. Cook slowly on a light heat with lid on (this way you are going to have the stock with richer taste) about 1 ½ or 2 hours. Remove foam from time to time. After stock is cooked, strain it through the cloth or strainer.
Others for ramen:
Miso paste, light
Miso paste, dark
Mushrooms (I used Buna Shimeji and Enoki), blanched shortly
Baby corn (cut lengthwise and sauté shortly with some sesame oil)
Baby green beans (cut diagonal in half and sauté shortly with some sesame oil)
Different sprouts
Black sesame
Quail eggs, boiled (5 minutes for hart and 3 minutes for soft)
Pak Choi (sauté shortly with little bit of sesame oil)
Chili
Nori leaf
Serving:
Place cooked ramen noodles on the plate or bowl and pour some ramen soup (chicken stock seasoned with both Miso pastes). I mixed 1l of chicken stock with 1 tsp of light and 1 tsp of dark Miso paste. Depends on your taste you can put more or less.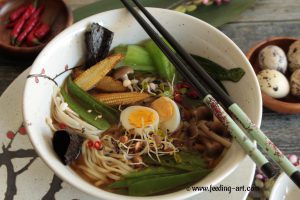 Arrange all other vegetables and ingredients at the top of ramen.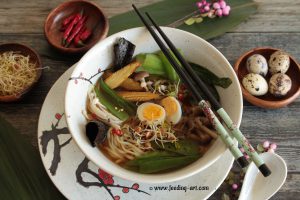 -Croatian version-
Ramen je jedno od mojih omiljenih jela japanske kuhinje i kada imam priliku posjetiti japanski restoran, pored gyoza obavezno naručim i Ramen. Već nekoliko mjeseci intenzivno razmišljam da napravim Ramen kod kuće, ali sam imala dvije želje. Prvo, napraviti domaće, ali karakteristične ramen rezance (tjesteninu) i drugo, ramen juhu koja se bazira na pravom domaćem temeljcu bogatog okusa, polako kuhanog bez puno dodataka osim soya umaka ili miso paste. Za juhu nije bilo problema, ali za tjesteninu trebalo je malo istraživati. I u ovome receptu donosim vam savršenu ramen tjesteninu koju osim u njemu možete koristiti uz wok povrće uz čili umak, soya ili jednostavno na sezamovom ulju uz đumbiri čili.
U čemu je tajna? U sodi bikarboni koju sušite u pećnici oko sat i pol na temperaturi 150C. Neće promijeniti boju, ali će tjesteninu pretvoriti u pravo božanstvo. Odnos vode i brašna je savršen, samo trebate malo strpljenja i ukupno oko 45 minuta da dobijete glatko tijesto. Konačni izgled tjestenine i mene je iznenadio i oduševio, svilenkasta, blago rastezljiva, savršenog okusa, lagano spiralnog oblika.
Od povrća koristite ono što volite. Prije serviranja možete ga kratko dinstati na sezamovom ili nekom drugom ulju ili pak kratko blanširati u vodi. I na kraju sve sastojke poslagati u zdjelu. Možete dodati i razno meso, kozice, napraviti povrtni temeljac, izbor je na vama. Dobar tek!
Ramen tjestenina:
1,5 čajne žličice sušene sode bikarbone (dobijete tako da na papir za pečenje pospete sodu i sušite sat i pol na 150C)
240g brašna (koristila sam bijelo 550, može i 405)
120ml mlake vode
Pola čajne žlice soli
U mlakoj vodi otopiti sol i sušenu sodu te pomiješati s brašnom i umijesiti tijesto. Na početku će tijesto biti dosta suho, ali nemojte dodavati više vode. Nastavite mijesiti kratko rukama, ne mora biti glatko ni tanko jer ćete ga razvaljati kroz mašinu za tijesto dok ne bude glatko. Nekoliko puta prođite kroz najširi otvor 0 (4-6 puta) stalno savijajući tijesto. Potom dva puta kroz otvore 1-7. Tako ćete dobiti lijepo, glatko i svilenkasto tijesto za ramen. Moja mašina ima raspon od 1-9, a tijesto za ramen sam razvaljala na broju 7. Ako se tjestenina lijepi, posuti s malo rižinog brašna (može i obično). Potom uz drugi dodatak na mašini za izradu tjestenine provući listove tijesta da dobijete željenu ramen tjesteninu (moji su širine uskih špageta). Posuti s malo rižinog brašna i pokriti prozirnom folijom da se ne osuši prije kuhanja.
Svježu tjesteninu prokuhati pola minute u kipućoj slanoj vodi i isprati hladnom vodom. Ako vam se skuhana tjestenina malo lijepi zbog stajanja bez tekućine, samo je isperite kratko hladnom vodom i biti će ko nova.
Ramen juha:
Pileći temeljac za ramen:
4-5 cijelih krila (ili nekog drugog pilećeg dijela)
1 veliki luk
3 češnja češnjaka
Malo kupusa
Pola poriluka (bijeli dio)
Korijen peršina (1 komad)
2 mrkve
3 lovorova lista
Nekoliko zrna papra
Voda
Sol
Luk narezati na manje komade i prepeći na vrućoj ringli, poriluk također. Sve sastojke poklopljeno kuhati na laganoj vatri (da se dobije temeljac bogatijeg okusa) oko sat i pol-dva. Po potrebi skinuti pjenu koja nastaje na početku kuhanja. Procijediti temeljac kroz tkaninu za pasiranje (ako nemate može i sitno cjedilo).
Ostalo za ramen:
Miso pasta (svijetla)
Miso pasta (tamna)
Gljive po izboru (ja sam koristila Buna shimeji i Enoki japanske gljive), kratko blanširati
Baby kukuruz (prepoloviti dužinom i kratko prepržiti na malo sezmova ulja)
Baby mahune (kratko prepržene na malo sezamova ulja)
Razne klice
Crni sezam
Prepeličja jaja, kuhana (5 minuta za tvrdo kuhana i 3 minute za meko)
Pak choi (kratko sotirati na malo sezmova ulja)
Čili
Nori listovi
Serviranje:
Skuhanu tjesteninu staviti u tanjur (zdjelicu) te uliti ramen juhu (temeljac začinjen miso svijetlom i tamnom pastom). Meni je odnos temeljca i miso paste bio 1l temeljca, 1 jušna žlica scijetle miso paste i 1 jušna žlica tamne miso paste. Ovisno o vašem okusu, možete staviti više ili manje miso paste.
Rasporediti ostalo povrće, prethodno pripremljeno kako je gore navedeno.